EXTREMELY RARE 160 CARAT BAROQUE ABALONE PEARL

(SAN FRANCISCO, CA)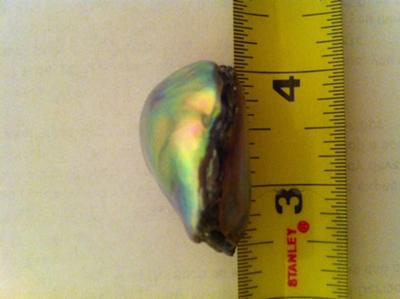 160.24 carat abalone pearl
Type of pearl: BAROQUE ABALONE PEARL

Carat Weight: 160.24 carats

Shape: TEARDROP

Size in mm: 41.00 X 32.30 X 21.20 mm

Color: UNDRILLED MULTICOLORED

Location of Origin: BODEGA BAY PACIFIC OCEAN

Unique Features: THIS PEARL IS IN MINT CONDITION

Certificate: GEM DATA & GIA CERTIFIED SAN FRANCISCO/ CARLSBAD. APPRAISED AT $80,000


Price: $66,000 SOLD!



THIS ELEGANT PEARL WAS FOUND BY A DIVER NAMED STEVEN BENNETT IN SHARK INFESTED WATERS OFF THE COAST OF BODEGA BAY, CA. THIS PEARL HAS NEVER BEEN IN THE SUN.