Free Pearl Baby Bracelet
From time to time on Twitter & FaceBook I will offer a few free cultured pearl baby bracelets. Here's where to claim them.
Please fill in your name and address. The first 10 to respond will receive a free cultured pearl baby bracelet of small pearls on strong elastic which is 5 1/2 inches around and either white or pink pearls.
I have literally given thousands of these away for free...yes, even free shipping. When I say free, I mean free.
You might also enjoy reading this children's story about the day I received thousands of orders for these free bracelets.
I'm pretty crazy about little babies and had seven of my own!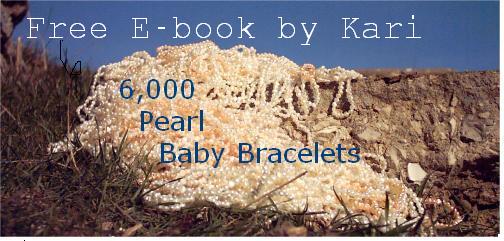 No obligation here, but I'd love to have you sign up for my very inconsistently sent newsletter.