Lovely Lavender Pearl Necklace
This dainty lavender pearl necklace would be the perfect accessory for a lavender prom dress—or hey, even a casual outfit of blue jeans.
You just can't go wrong with jewelry of lavender pearl and these pearls are especially lovely with a deep luster, circular shape, and expertly matched.
The fact that they are only slightly flat lowers the price for you, but also gives you more pearls for the length. Trust me, no one will even notice that they're not perfectly round.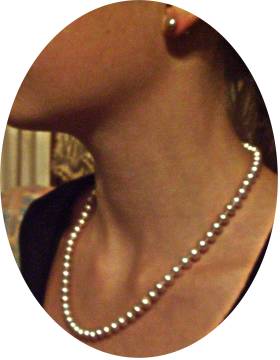 The color of this jewelry of lavender pearl is naturally colored…no dyes. They were "born" with this loveliness.
A ball clasp of sterling silver is the perfect connection for this necklace.
Matching pierced earrings are included.
This size of pearl and the length of necklace look especially nice on young girls and "princess-size" ladies.
Each purchase comes with free S&H and a silk gift bag.
Try this necklace risk free. Payment gladly refunded if not pleased.
Paypal is a trusted form of online payment that takes credit cards without the need to sign up.
Size: 6mm
Color: Pink or Lavender
Shape: Slightly flat or button shaped
Surface: Very few slight blemishes
Clasp: Sterling Silver Ball
Length: 17" necklace with matching pierced earrings.




Price: $44.99

Sorry, I'm sold out of these.

Check back often for new lavender necklaces which will be added to this site.



Click here to return to main Lavender Pearl Necklace page.

Photos and Text copyrighted by www.karipearls.com