Natural Pearl Pendant
Make your face shine with happiness when you wear this natural pearl pendant on 18K gold. One of a kind necklace will give you Kari-Confidence. Nothing gives confidence like wearing "wild" pearls.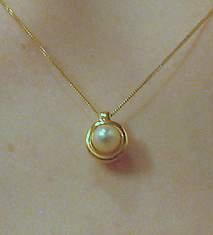 Wild Pearl Pendant
You can enjoy owning this authentic Persian Gulf pearl on 18K gold. I'm excited to offer these lovely keepsake pieces of jewelry on my website.
On a recent trip to the Arabian gulf states I was also to purchase a few of the rare pearls that are sometimes still found in the gulf. I'm happy to offer this low price for almost a 1 carat wild pearl plus the high quality gold. This one-of-a-Kari-kind necklace is sometime you will pass on to the next generation.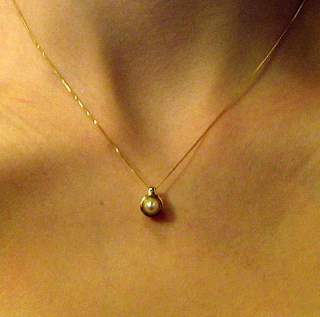 "Wild" Pearl Pendant
Color of pearl: pinkish-white
Shape of pearl: Irregular
Carat weight of pearl: 0.95 carat
Dimensions: 4.72 x 5.57 x 5.02 mm
18K Yellow gold pendant and chain
Certificate of Authenticity
Price: $518.40