White Pearl Necklace in a Perky Style
Unique white pearl necklace may be just the idea you need.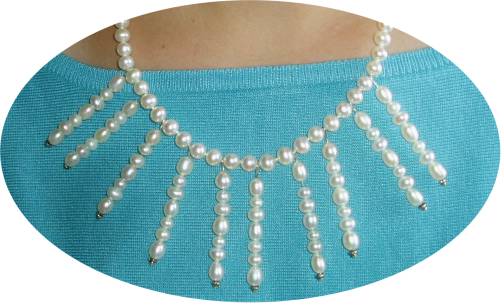 This 10-legged "spider" necklace is sure to be one of your favorites.
Trust me...it's bound to get some "Wow!" comments.
It'll add pizazz to almost any outfit...even colorful tee-shirts and simple tops.
Wedding dresses would look sooooo special with this crazy-happy necklace.
Any female member of a wedding party would look smashing in this...a mother of bride or groom, bride, or bridesmaids.
We just attended a large outdoor wedding...great weather, great food...lots of fun!


Perky Spidery Pearl Necklace Details
Length: 18"--Great length
Color: White--Natural color
Size: 6-7mm pearls--Eye-catching size
Shape: Off-round, Button and Oval Pearls--Various Shapes
Luster: Medium--Lots of great shine
Clasp: Round Ball--Sterling Silver
Sorry, this style is no longer available.

Natural pearl jewelry for sale here.
Go to main White Pearls after viewing this spiky White Pearl Necklace.
Search the Web Here
Photos and Text © by www.karipearls.com