Hi,



I am resending this because I made a mistake on my photo.

I am pleased to announce natural Arabian Gulf pearl jewelry for sale on my site.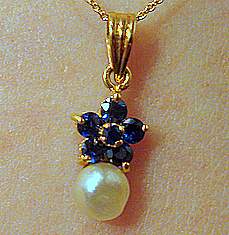 Natural Arabian Gulf Pearl with Sapphires
Arabian or Persian Gulf pearls have been famous for centuries and are known for their luster and beauty. Few pearls are being found today in the Gulf, making them a rarity.
Here is your opportunity to own a wonderful piece of natural pearl jewelry that is not often available. Each piece is made with 18K white or 18K yellow gold settings.
Every pearl has been tested in the Manama pearl lab and issued its own individual certificate. I was honored to hear the pearl lab director, Ali Safar, speak at the recent pearl forum in Dubai and later I was honored to visit his lab where he gave me a personal tour.
These one of a kind jewelry items were hand picked for my website. Natural pearls are my favorites, I am thrilled to offer them here for sale.
Nothing gives one confidence like wearing natural pearls!
See all my natural pearl jewelry selections from my recent trip to the Arabian Gulf.
May God bless you on this Easter weekend,
Kari
Toll free: 1-866-884-7815

Each piece of natural pearl jewelry comes with my personal no-questions-asked guarantee.