Hi,


I'm giving this abalone pearl necklace away this November!

It is my pleasure to give away this abalone pearl with aquamarine necklace. Sterling silver chain included. It's easy to enter. Just reply to this newsletter and tell me, "Yes, enter me into the contest!"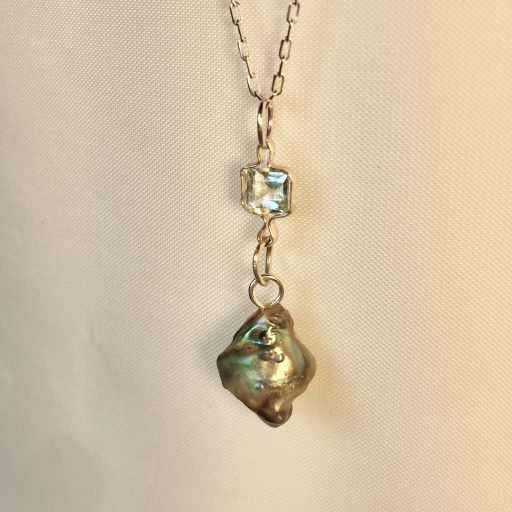 Abalone pearls are in a galaxy all their own. They stand apart from all other pearls. The colorful iridescence that dances on their surfaces rarely needs any enhancing and yet they also lend themselves to other worldly creations probably more than any other type of pearl because of their dazzling colors and fanciful shapes. I've added a small aquamarine to this necklace for a bit of companionship.

My parents brought this abalone shell home from Catalina Island many years ago and I grew up often gazing into its beautiful kaleidoscope of colors, never realizing that one day I would be giving an abalone pearl necklace to a lucky winner this November.




George Kunz in his 1908 book, THE BOOK OF THE PEARL, says this about abalone pearls. "Abalone pearls are especially interesting on account of their brilliant and unusual colors. Green predominates, but blue and yellow also occur. Although commonly small, some of the well-formed ones exceed seventy-five grains in weight, and those of irregular shape may be very much larger. Their beautiful greenish or bluish tints adopt them for artistic jeweled objects such as the body of a fly or of a beetle. Abalones occur in many inshore tropical and semi-tropical waters, and particularly in the marginal waters of the Pacific. They attach themselves to the rocks by means of their large muscular disk-shaped foot, which acts like a sucker or an exhaust-cup."

My friend, Antoinette Matlins, in her book, THE PEARL BOOK: THE DEFINITIVE BUYING GUIDE, says, "The abalone pearl is one of the most beautiful and unusual of all pearls. It is also one of the rarest. Unlike other saltwater pearls this pearl is produced by a mollusc you eat -- it is the same abalone served in restaurants! In fact, the demand for the meat of the abalone has resulted in a serious depletion of abalone mussels and increased rarity of the abalone pearl. Each abalone pearl is unique in appearance. There are ninety-six known species of abalone, widely varying in shell color, size and rate of growth. Once you have seen an abalone pearl, it can never be confused with any other type of pearl."

Thanks for your interest in my natural pearls. You can check out abalone pearls for sale at this link:
Abalone Pearls for sale

God bless & Happy Thanksgiving!
Kari