Hi,


For April I'm giving away this 0.5ct USA natural freshwater pearl on an antique looking pendant.

I just love this little pearl. It looks like the top of an soft serve ice cream cone. Hmmmmm, it probably would have made a cute ice cream cone charm.

Instead, I put in on the antique looking pendant which is base metal with a matching chain. I hope you like it.

Once again, to enter, simply reply to this newsletter and tell me, "Yes, please enter me into the contest!"

I appreciate your participation. I've decided to do these giveaways instead of spending money on advertising. I'd rather give value away to my subscribers. Please help spread the word about my rare products - natural pearls! I love that I can offer them to you. It has been fun (and lots of work) following the path where God has led me.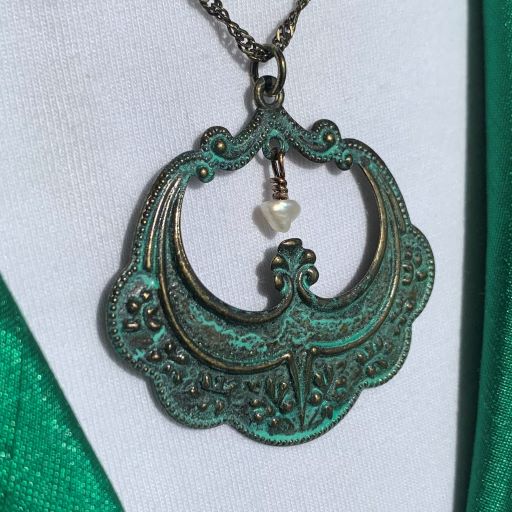 Let me brag about my 7 amazing children for a moment. They secretly decided that mom needed a new computer....and bingo....a new computer showed up! Just like that. What a surprise! It was built by Matt, our fourth son, whose new skill is building computers - on top of his many other talents.

It's given me a "new lease on life"...well, business life anyway. It never dawned on me that I needed a new computer but it's made such a huge difference already in my enthusiasm and efficiency for Karipearls.

There was talk also about me needing a new desk & chair but I convinced them that I really do love my antique oak desk & chair.

This all happened just when I had decided to move my desk and my husband's desk into our library and out of our living room. It's much more private there and the "desk mess" is hidden away. First I wanted to paint and stencil the walls, which Sam, my third son, helped me do, because one of his new skills is painting, on top of his many other talents. His wife, Alexis, helped me decide on colors.

Last night, Matt and his wife, Courtney, suggested I use a photo of my daffodils for the desktop photo.




I highly recommend having a large family. In truth, my biggest regret in life is not having more children!

I am a very blessed mother! And speaking of Mothers...you might find something special for yours at KariPearls.com

God bless, Kari