Hi,


I'm giving away the well known book, THE BOOK OF THE PEARL by Kunz & Stevenson, published 1908. This book is a used paperback, but in good condition. The 183 illustrations are a total delight. You'll learn tons about natural pearls. I LOVE this book and I think you will too.

Kunz, without a college education, taught himself mineralogy, was hired by Tiffany & Co and by age 23 became vice president of the company. He gained much notoriety for identifying a new gem variety of the mineral spodumene which was named "Kunzite" in his honor.

My first siting of Kunzite was in Mombasa, Kenya in a very large, dusty, musty jewelry shop when a tall sheik in full array came gliding down an open staircase extending out a large Kunzite in his hand to show me. My youngest son, John, and I were on a fun trip, following the path of Vasco da Gama's epic voyage from Lisbon, Portugal to India, which is the reason we were in Mombasa.

Also I'm giving away a fun, stretchy yellow mother of pearl button ring. The vintage button was made in my hometown of Muscatine, Iowa. It's a "just for fun" item. I've amassed quite a collection of these buttons because I love them so much. Muscatine is famous for mother of pearl buttons and we have an amazing button museum you'd enjoy if you're in the area. But, if you are near here, please send me a note so I can meet you!

Next I'm giving away a 47 gram piece of coral from the Persian Gulf. I picked this piece up on the shore of Kish Island which is in Iran. Kish Island is a lovely place with lots of recreational activities such as jet skiing. It was fun to see women in full burka covering jet skiing and laughing to their heart's content. After fingerprinting me, security almost didn't let me out of the airport because my calf length skirt was "too short". So I pulled it down as far as possible without it falling off and they let me go...at my own risk. A head covering was provided as I didn't remember to bring my own.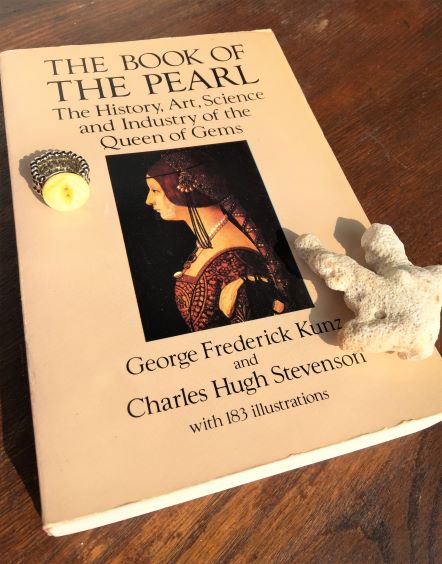 To enter, simply reply to this newsletter and say, "Yes, enter me into the contest!" The chance to win ends on July 31, so please don't delay in responding.
"Cast your bread on the surface of the waters, for you will find it after many days." Ecclesiastes 11:1
Happy giving & God bless, Kari