Hi,



We had a surprise snowfall a couple of mornings ago. I was thrilled. It gave me one last chance to go sledding in our pasture!

I have 5 conch pearls for sale.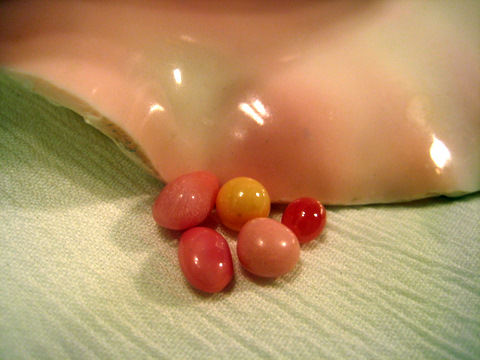 5 Conch Pearls
You can see the vivid colors and clear surfaces for yourself in this photo next to a conch shell.
The great conch (Strombus gigas) found in the Caribbean, is a large marine snail. A porcelain-like surface is caused from a calcareous concretion rather than layers of nacre. Often called "Pink pearls", they can also be brownish or white. One of these for sale is a lovely golden/yellow color and very round. A pearl is found in one of about 10,000 shells, making conch pearls rarities.
Each pearl has its own page with more photos of different angles so you can get a good look at each one individually. Just click on the "Help Me Choose" link below each photo.
Please feel free to make an offer on any one of these 5 conch pearls.
Take care and thanks for being a part of the KariPearls.com newsletter!
Don't hesitate to contact me via my website or phone if you have any questions.
God bless,
Kari
Toll free: 1-866-884-7815