Hi,



Do you like my new header? I thought it was time for an upgrade and still have some changes to make on this one, but would love to know what you think? Am I on the right track?

Except for three pink conch pearls, all the rest of the pearls in the photo are natural freshwaters from the USA. I'm crazy about the colors, shapes and sizes. Just take a look at the big one on the right. A monster of a natural pearl!

The conch pearls and purple button on top are listed but none of the others are listed yet. I have so many pearls to list. Where is the time?

I'd love to see what you designers could do with these! I'm starting to get some ideas myself too. I can imagine the purple button as a ring surrounded with small lime green peridots.

I've also spruced up my packaging.
Here's basically what you'll get, with a few possible variations.
A shell box (styles vary - made in the Philippines) (or possibly a plastic gem box)
Pearl padded with our sheep's clean, carded wool (or in a plastic baggie)
Two business cards - one to keep, one to share
A personal, handwritten note (Because I love getting notes myself:)
Raspberry tissue paper
A square of cotton wax cloth (I bought this in Kenya, Africa)
Lime green (my favorite color) gross grain ribbon (Real ribbon you can use for other things)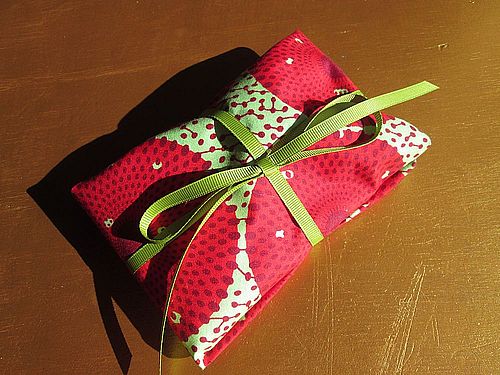 So, there you have it.
I've looked at and considered custom jewelry boxes, but decided not to use them. I love a little unpredictability and supporting small local businesses where I've traveled. Plus, I think a shell box is very appropriate for a natural pearl!
Thanks for accepting my ebook, Palette of Pearls. Here is a better link for it.
Thanks so much for sharing my natural pearl adventures with me. I'm loving every minute of it and hope you are too!
After our very long and very cold winter here in Iowa, spring is welcome indeed.
I can't wait to get into the garden and also to clean the barn!
God bless, Kari