Hi,



I was happy to be invited to see this pearl button factory time capsule in my city. In 1956 the owners said the last good byes to their employees and locked the door!

My city, Muscatine, Iowa, at one time had the nickname of "Pearl Button Capital of the World!" We have a nice Pearl Button Museum.

LOTS of pearl buttons were made here.

Now, just to clarify, I never really understood why we call these "pearl" buttons, because they aren't really "pearls" but made from shells.

With flashlights in hand, we climbed the dark stairways.

At least 2 floors of the Schmarje building were dedicated to the Ronda Button Company.

The Schmarje family had the foresight to leave this factory basically untouched for over 60 years - what a blessing! for those of us interested in this local history.

These machines zipped through tons of shells, cutting blanks for buttons.
Button Cutter
The new type of button cutting machine, featuring a carbide-toothed saw operating on a vertical shaft enabled workers at the Ronda Button plant to produce top grade blanks at a faster rate than was possible by older methods.
The local pearl button museum has a movie visitors can watch showing workers quickly slipping shells into these cutters so blanks can be cut out from them. (It looked dangerous…)
I saw how shells would arrive at the plant by the tons in burlap sacks.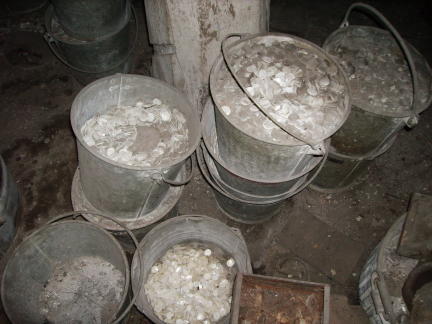 Button Blanks
Shells would come not only from the Mississippi River, across the street, but from lots of sources including the Minnesota, Arkansas, White and Tennessee Rivers.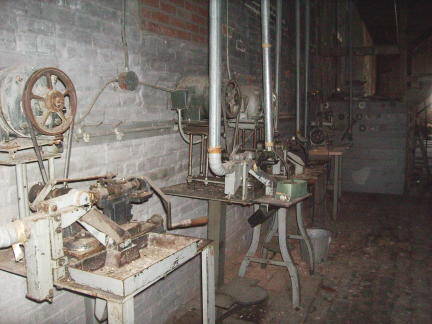 Machines Lined the Walls
There were old burlap sacks bursting their seams with buttons blanks that never made it to the finishing factories…but lay here as a reminder to all of us of the immense work and effort that went into making buttons for our shirts and skirts.

Finished "Pearl" Buttons made in Muscatine
I hope you enjoyed the little mini tour of our local time capsule.
Here I am sharing for Pechkucha Night at our local museum about my pearling adventures.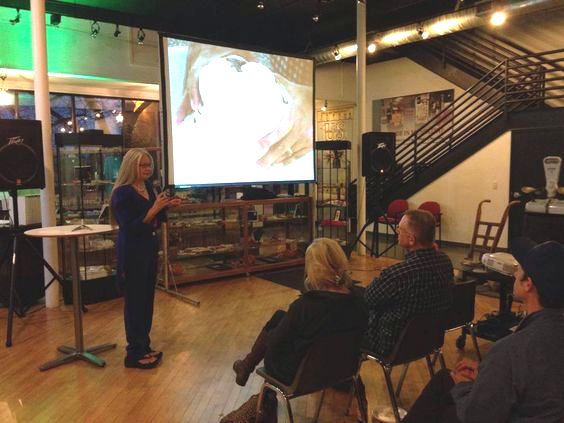 Me speaking at Muscatine Button Museum "Around the World in 80 Carats!"
An interesting bit of trivia about our city is guess who at one time stayed here?
The current president of China, Xi Jinping! As a young man he was an exchange student here.
His presence here in Muscatine, has developed a unique relationship between Iowa and China. Our former governor, Branstad, is now the ambassador to China.
Would you be interested in seeing photos of my visit to a time capsule jewelry store in Birmingham, England?
If there's interest I can try and track down my photos and share them.
Thanks for being a part of Karipearls.com! I appreciate you.
God bless,
Kari