Hi,



According to Elisabeth Strack in her amazing book, Pearls, "The scarcity of abalone pearls is demonstrated by the fact that only around one pearl is found in 50,000 animals and that ten million animals are apparently required to find one pearl of good quality. It is likely that the figures will continue to fall in the coming years."

"Nearly all languages use the word "abalone" for gastropods of the Haliotis genus."

"Horn shaped pearls are often formed when the gonad is enveloped in pearly substance, due to an irritation accompanied by the dislocation of mantle tissue.It is essential that the foreign objects are accompanied by epithelium cells of the mantle."

"The average weight of abalone pearls is between 20 and 80 carats. The growth rate is considered to be 26 times higher than with pearls from Pinctada."

"Abalone pearls characteristically show a combination of several colors, due to strong iridescence, similar to opals."

"Pearls showing a perfect or nearly perfect surface, are rare and are therefore valued highly."

The above are quotes from Elisabeth's book, pages 101, 268 & 269.

You'll never find a more complete book on pearls than Pearls, written by my German friend, Elisabeth Strack.

The following abalone pearls are for sale on my site.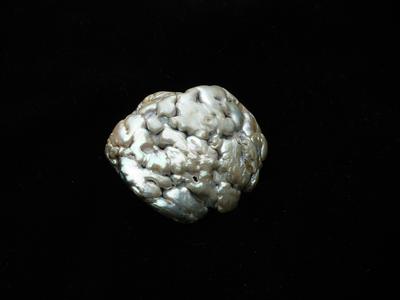 212.5 carat Natural Abalone Pearl
This amazing natural Haliotis sorenseni pearl was found off the coast of Bodega Bay, California and weighs an astounding 212.5 carats.
The diver retrieved a Haliotis sorenseni with an unusually deep shell measuring approximately 22x20x9cm. Inside and detached from the shell was a massive pearl measuring 47x47x21mm. The base color of the pearl is silvery-white shading to dove-grey with a pink and blue orient.
Extraordinary not only for its size and origin, this gem is extremely attractive and a very uncommon color for an abalone pearl. It may be the only pearl of its color, size, and quality in existence.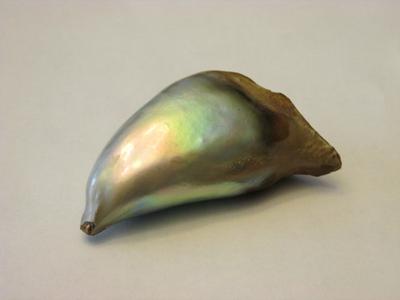 145.63 carat Natural Abalone Pearl
50mm x 36mm
Location of Origin: Northern California
GIA Certificate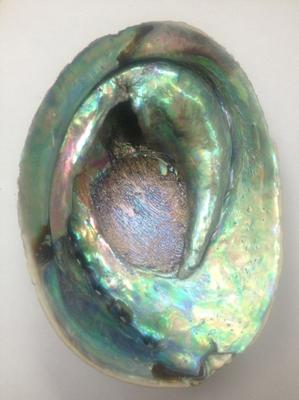 Enormous Natural Abalone Pearl - New Zealand
Natural Abalone Pearl from the species Haliotis Iris
Conical shape pearl still in shell and a wing pearl alongside it
Conical pearl: 90mm long, 40mm wide, depth 28mm at opening
Wing pearl: 70mm long and 12mm wide
Intense iridescent greens and blues with overtones of mauves, purples and oranges
New Zealand
Huge Pearl, extreme rarity, would have to be over 25 years old to get this big.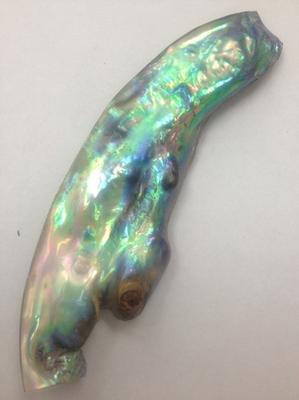 Gorgeous Natural Abalone Wing Shaped Pearl
Natural Abalone pearl from New Zealand
Wing shape
98mm long, 29mm widest point, depth 5mm
Incredibly vivid intense blues and greens and flashes of mauves oranges and purples.
New Zealand
Huge pearl with nacre on both sides not just one. Cut from shell along the back.
This pearl comes from the Chatham Islands off the coast. The nutrients and the cold temperatures of the water here make the colours of the "paua" as they are locally known particularly and intense and gorgeous. There is a very limited quota of wild Paua harvested by divers every year and rarely do they produce a pearl at all.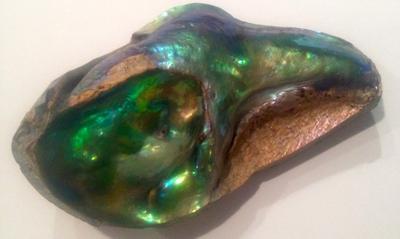 Rare Natural 90mm Abalone Pearl
Natural Abalone Pearl (from Haliotis Iris)
Conical pearl
90mm long, 58mm widest point, Conical form depth 20mm
deep blues, iridescent greens with overtones of orange, mauve
Chatham Islands, New Zealand
Very, very large and wonderful lustre. Unusual shape Conical form with part of the shell still attached, Strong vibrant iridescent colours, blues, mauves, purple, electric green with overtones of orange.
Check more natural abalone pearls available on my site here.
I grew up with a large iridescent abalone shell on display in our home and I've been hooked on their irresistibly beautiful colors ever since. Natural abalone pearls are not only rare collector's items but they are investments.
Be sure to let me know if you have questions, offers to make, or natural pearls to sell. I apologize for my toll free number not working lately. Please use my online contact form to get in touch with me.
God bless! Kari