Hi,



Exclusive Sale --- For E-zine Subscribers Only!
Welcome! Thanks for signing up for my free e-zine.
I'm having a blast making my website about pearls....and there's always something new, so check out my KariPearls Blog
If you don't receive photos in your ezine...check out the photos for this offer here.
I'm offering a big discount on my finest pearls only to you who receive my e-zine from now until February 17. (I know that's past Valentine's Day....it's my birthday :)
These high quality freshwater pearl necklaces are already a steal at $210 (my regular price)....but my exclusive sale price is only $160 AND a free pair of white pearl stud earrings.
This would be a great time to finally get that classic quality pearl necklace you've dreamed of owning.
As one of my customers from England says, "A woman is known by the pearls she wears!"
Don't worry, if you are not delighted with this necklace I'll gladly refund your money...no questions asked.
Stunning Necklace of 9mm White Freshwater Cultured Pearls
My finest white freshwater cultured pearls make up this necklace.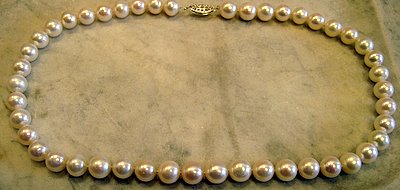 White Freshwater Cultured Pearls
Cultured freshwater pearls are a favorite of mine. Why? Because they are almost 100% nacre (the pearly substance that makes up a pearl). To get these beauties started, a skilled person implants only a very tiny piece of mantle tissue into the muscle of a freshwater mussel. Up to 50 of these tissues can be implanted into one mussel.
The volume of pearls that can be grown in one mussel is a factor that makes freshwater cultured pearls such a value product.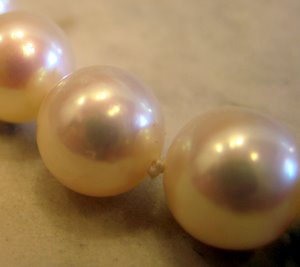 White Freshwater Cultured Pearls Closeup
In contrast, saltwater pearls contain a shell bead which is coated with nacre. These are gorgeous too...don't get me wrong, but with most freshwater white cultured pearls there is absolutely no chance of the nacre peeling off to expose a shell bead.....because there is no shell bead, nothing but pure lustrous nacre and a tiny mantle tissue piece deep inside of the pearl.
White Freshwater Cultured Pearl Necklace
Wow....maybe that's more information than you even wanted to know, but since pearl information is my biggest interest I love passing on these facts.
Pearl growers are culturing more and more round freshwater pearls. The round shape is the most desired shape in pearls, although most of my youthful friends actually prefer irregular baroque shapes.
White Freshwater Cultured Pearls Closeup
These white freshwater cultured pearls in my necklaces are very fine, as you can see by the photos--great luster, round shape and good matching.
I can also make matching bracelets and longer necklaces...just send me a note and I'll tell you the price and them up for you.
Sterling Silver Filigree Clasp
A quality pearl necklace like this is one you'll want to pass on to your daughter and granddaughter.
Type: Freshwater cultured pearls
Size: 9mm
Shape: Round
Surface: Minor flaws (keep in mind a perfect pearl is rare)
Luster: Good - Mirror-like reflective quality
Matching: Good
Color: White
Clasp: Sterling Silver filigree
Earrings: Free White Stud Earrings
Price: $160 -- Private Sale!


Free Shipping & Handling -- Free Silky Gift Bag -- 90 Day Return Policy
I take Paypal, check or money order. (If your email doesn't show an active PayPal link, then contact me or reply to this e-zine and I can instruct you where to pay via PayPal.)