Hi,



I think you will enjoy seeing how these free divers use only nose clips, a simple mesh basket and finger guards to search for Pinctada radiata pearl bearing oysters in the Persian Gulf. Oh, they also use a weight on a rope with a trusted friend on board the boat to pull them up at the right time.

I took this video at the wonderful museum in Dubai, UAE.

You'll learn more about these simple diving tools and see a fellow who crafts them on this page.

Current Sale Item

I have this luscious 6 strand necklace & earring set on sale just for you at this time. The necklace sits close around the neck making it perfect for suits, high necklines or that for that special night at the prom.

I think you'll get compliments when you wear these, I always do.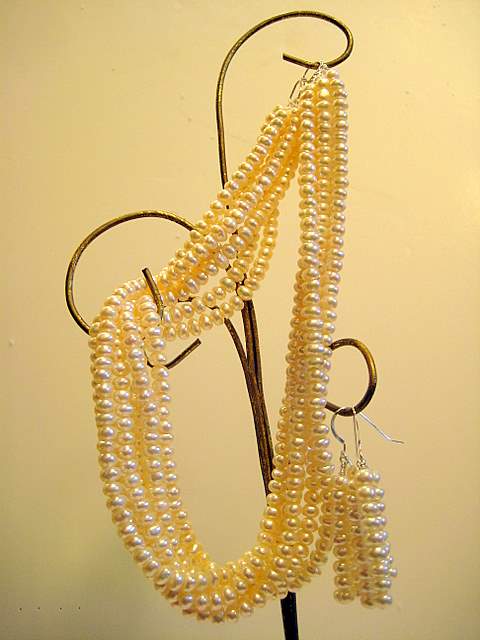 6 Strands of Pearls and Earrings
This is also available in lavender. You may purchase it on the ezine or see more photos here.
Pearl Type: Cultured Freshwater
Shape: Off Round
Size: 5mm
Luster: Excellent
Surface: Near Perfect
Matching: Excellent
Color: White or Lavender
Metal: Sterling Silver
Necklace length: 15.5"
Price: SALE PRICE $45.00
Free Shipping -- Free Silky Gift Bag -- 90 Day Return
View this necklace on my website if the paypal buttons do not work with your email.
Thanks again for joining me!
Kari
Toll free: 1-866-884-7815