Hi,



This is a familiar story about the Cartier business but I enjoyed reading it from the perspective of Francesca Cartier Brickell in her book, The Cartiers, as she writes about her family heritage in developing this famous jewelry empire.

https://www.youtube.com/watch?v=pFp23R_tU9c&t=2s

She tells it best herself here:

"For Pierre, there were two items that took priority: finding larger premises and rescuing the faltering cash flow by selling some of the highest-value items in the showroom. Fortunately, there was a client just around the corner who would be the ticket for both, landing Pierre one of the biggest deals of his life.

In the early twentieth century, a perfect pearl was considered the most valuable object in the world. The discovery of one in the Persian Gulf was a major event. It would even throw the global financial market into a state of high alert by depressing the value of everything else. It didn't take long for Alfred and his sons to become wise to the power of the small iridescent gemstones. The wealthiest women in the world bought Cartier's pearls, but of all the well-known pearl transactions, one stood out as being particularly significant for the firm. It involved a spoiled young bride, Maisie Plant, and her doting elderly husband, Morton Plant, a railroad and steamship magnate who was also the commodore of the very prestigious New York yacht Club.

In 1916, Pierre Cartier put what he believed to be the most expensive necklace in the world in his New York showroom. With two strings of fifty-five and seventy-three perfect pearls, it as worth more than a million dollars (around $24 million in today's money) and became an overnight sensation. Many admirers traveled to see it in the flesh, but the thirty-one-year-old Maisie Plant was more captivated than most.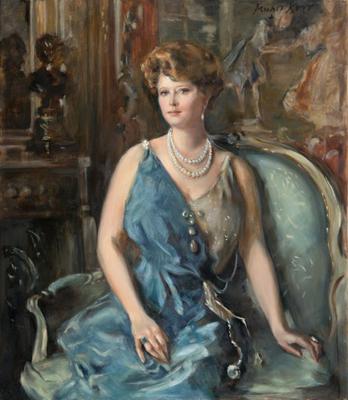 Mae Caldwell Plant
One evening, Maisie Plant and Pierre Cartier were seated next to each other at a dinner. She was extolling the beauty of Cartier's pearl necklace but claimed not to be able to afford it. Pierre knew that Morton Plant, in his sixties, was quite besotted by his much younger second wife and would make it his mission to ensure that whatever Maisie wanted she should have (much to the dismay of his grown-up children, who had their suspicions that their new stepmother was a gold-digger). Pierre also knew that Plant was considering selling his Renaissance-style mansion at the corner of Fifth Avenue and Fifty-second Street because he felt the area was losing its residential feel. As both the five-story townhouse and the pearl necklace were valued in the region of a million dollars, Pierre wondered if Mr. Plant might be open to a deal: 'Give me your townhouse, and I'll let you have the necklace.' Fortunately for Maisie, her husband accepted the proposal. A pearl necklace was exchanged for a set of keys. And Cartier moved into the mansion."

Cartier Building in 1920
Decades later, Francesca Cartier Brickell, in conversation with her grandfather, Jean-Jacques Cartier (son of Jacques Cartier), records this. "Uncle Pierre made a great trade with that pearl necklace for the building, but you see, it wasn't as absurd as it sounds today. Buildings, after all, could be built or rebuilt, but finding a perfect natural pearl could take months, even years. And finding enough good-quality, perfectly matched pearls for a necklace, well, that could take decades."

Pierre Cartier 1910
Morton Plant was very wealthy. Pierre wrote to Jacques that the previous owners of the Cartier mansion, Morton and Maisie Plant, had an incredible vacation home just around the corner: "To give you an idea of the grandeur -- before the war they employed 65 gardeners!"
***
The Real Estate Record And Guide of New York City reported on the resulting transaction in its July 21, 1917 issue. Note the "other valuable considerations" mentioned:
"The Morton F. Plant dwelling at the southeast corner of Fifth avenue and 52nd street, has been sold to Louis J. Cartier, of Paris, and Pierre C. Cartier, of New York, jewelers, who several months ago leased the property for their business. Ownership was transferred last Saturday for $100 and other valuable considerations."
***
After Maisie's death at age 75 her jewelry was sold. The pearl strands would sell for only $181,000 – they had, in fact, fallen precipitously in value just a few years after Mrs. Plant was given them, thanks to Kokichi Mikimoto's introduction of cultured pearls in 1916, and their subsequent explosion in popularity.
So, what do you think? Are you happy that Maisie got her coveted natural pearl necklace? Are you glad the Cartiers got the mansion? Have you visited the Cartier New York store and seen Maisie's portrait hanging on the wall?


---

My oldest son, Andrew and I enjoyed meeting the artist, Akiane last week at the Beloved Gallery in Marble Falls, Texas. I love Akiane's artwork.


Blessings and thanks for reading,

Kari