Hi,


Quahog Pearls Now Being Cultured
Three years ago, Brendan Breen contacted me wanting to learn more about quahog pearls and sharing that he was attempting to be the first person ever to culture and commercialize pearls in quahogs.
I appreciated him reaching out to me and I shared some of my thoughts about value, rarity, etc. I actually tried to dissuade him from culturing quahog pearls because, as I shared with him, it's such a relief knowing that every quahog pearl people find it truly a natural pearl.
At the same time, I love it when folks are inventive, and experiment with new ideas! My own father loved inventing useful items.
Here's a statement Brendan suggested I share on my newsletter.
"Mercenaria LLC is a company centered around culturing quahog pearls utilizing the unique, comprehensive method our founder Brendan Breen has developed and patented. We are the first to culture pearls from quahogs, and are currently in production, with plans to launch our first collection in the coming years. We are excited to continue growing our business, and add a new aspect to the world of pearls and jewelry. A rare pearl that is close to home, has character, and a small chain of custody. A pearl that people from the United States and beyond can feel a real connection with, treasure, and enjoy."
These are questions I asked him.
1. Will your cultured quahog pearls be labeled as such, so there's no mistaken identity with the naturals?
2. Will GIA and other labs be able to distinguish between cultured and natural in quahog pearls?
His reply.
"Thank you Kari, and to answer your questions, with my pearls it is important to me to have a transparent, small chain of custody, so I will be marketing my pearls as such so the buyer can understand and feel a connection with what exactly they are buying.
I have spoken with the GIA who have displayed interest in analyzing my pearls, and developing a set of standards around them. I will be pursuing this option in the future.
For the time being, my pearls are growing on pace, and I will be launching my first collection in the coming years."
So, although I'm not "into" cultured pearls I look forward to what he accomplishes with his new business and along the way I hope it puts the rarity of natural quahog pearls in perspective to give them the honor for what they are, a true national USA treasure.
I wish Brendan all the best with the world's first cultured quahog pearl, and the only operating saltwater pearl farm in mainland USA.
Thank you, Brendan, for sharing your new adventure with us.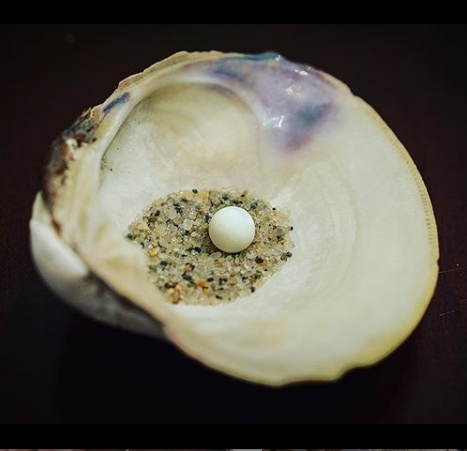 Here are some of his places for you to check out to find news articles and more information.
Feel free to give him a "handshake" and tell him Kari sent you.

Mercenaria LLC Website

Mercenaria LLC FaceBook Page

Mercenaria LLC Instagram

Mercenaria LLC LinkedIn

Buy Natural Quahog Pearls here: Natural Quahog Pearls for Sale

Read about the folks who have found natural quahog pearls here:
Found: A Natural Quahog Pearl - Stories

Thanks for being a part of my newsletter where I'm happy to give pearl news and offer unique pearls items.
God bless, Kari