Found A Quahog Pearl?
Have you found a Quahog pearl?

If so, I invite you to show us a photo and tell your story. Here's a place to share the joy of discovering one of these American treasures.
Did you know that the ocean quahog, an unassuming mollusk native to the Atlantic Ocean, has the longest recorded lifespan of any living organism at 220 years?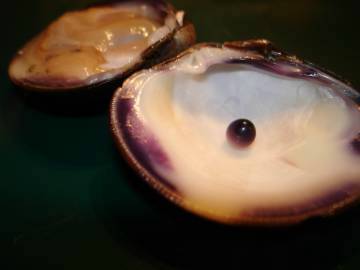 It would be very interesting to hear how you found your pearl. Or was it an heirloom passed on to you from a cherished grandmother? What have you done with your pearl? Have you put it into memorable jewelry? Do you keep it as a conversation piece? Would you like to offer it for sale?
Have A Great Story About Finding A Quahog Pearl?
Have you found a Quahog pearl? Share it!

Looking for a place to show off your Quahog pearl? Finding one of these is a thrill and quite a rare experience. These purple beauties come in a variety of shades and sizes.

Yes, there are natural Quahog pearls out there for the finding....we'd love to hear about yours.
Look Who Has Found Quahog Pearls
Click below to see contributions from other visitors to this page.

Go to main finding a pearl page.
Search here.