Pearl Stories, Quotes and Jokes
Here you can read pearl stories and jokes. AND you can add YOUR pearl stories, jokes, ideas, thoughts, etc, etc. I'd love to add them to my site for all to enjoy.

Viking Plunder Pearls - Just for Fun
The Pearl Poem
Pearl Engagment Gift
"Diving Bell" by Francis C. Woodworth
Eugene Field's "Margaret: A Pearl"
Disappointing Graduation Gift
The Hidden Pearls--Juvenile Fiction
The Pearl--14th Century Poem
Pearl of the Silver Sea...a romantic poem
Girl Monkey and String of Pearls
Mademoiselle Pearl..Love Lost
Stephanie's Pearls--Learning to Trust
Aron Finds the Perfect Little Sister Gift
Poems and Pearls--Great Partners
Pearl Poems from Classic Authors
Poems from Ancient Manuscripts
Pearl Poems by Ancient Poets
Quotes about Pearls
More Quotes Containing Pearls
Romantic Pearl Poems
Pearly Chambered Nautilus
A Poem from my Romantic Husband
Jill's Pearls...a Pearl Story


This page contains stories and jokes...some are true from people I've met, some are fictitious parables.
Because pearls have significance, there's often a story behind necklaces or just pearls in general. It's fun to get people talking about them...there's usually a memorable event attached. Do you have some pearl stories you'd like to share?
We'll start out with this modern day pearl parable.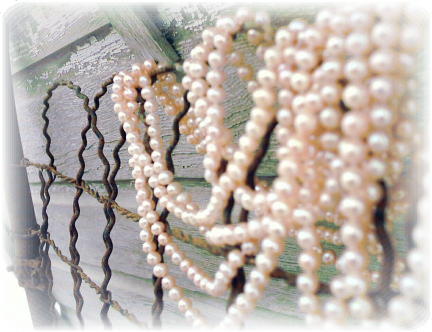 Click on pearls for more photos
Jenny's Necklace
Jenny was a bright-eyed, pretty five-year-old girl.
One day when she and her mother were checking out at the grocery store, Jenny saw a plastic pearl necklace priced at $2.50.
How she wanted that necklace, and when she asked her mother if she would buy it for her, her mother said, "Well, it is a pretty necklace, but it costs an awful lot of money. I'll tell you what. I'll buy you the necklace, and when we get home we can make up a list of chores that you can do to pay for the necklace. And don't forget that for your birthday Grandma just might give you a whole dollar bill, too. "Okay?"
Jenny agreed, and her mother bought the pearl necklace for her.
Jenny worked on her chores very hard every day, and sure enough, her grandma gave her a brand new dollar bill for her birthday.
Soon Jenny had paid off the pearls.
How Jenny loved those pearls. She wore them everywhere-to kindergarten, bed and when she went out with her mother to run errands.
The only time she didn't wear them was in the shower. Her mother had told her that they would turn her neck green!
Now Jenny had a very loving daddy. When Jenny went to bed, he would get up from his favorite chair every night and read Jenny her favorite story. One night when he finished the story, he said, "Jenny, do you love me?"
"Oh yes, Daddy, you know I love you," the little girl said.
"Well, then, give me your pearls."
"Oh! Daddy, not my pearls!" Jenny said. "But you can have Rosie, my favorite doll. Remember her? You gave her to me last year for my birthday. And you can have her tea party outfit, too. Okay?"
"Oh no, darling, that's okay." Her father brushed her cheek with a kiss. "Goodnight, little one."
A week later, her father once again asked Jenny after her story, "Do you love me?"
"Oh yes, Daddy, you know I love you."
"Well, then, give me your pearls."
"Oh, Daddy, not my pearls! But you can have Ribbons, my toy horse. Do you remember her? She's my favorite. Her hair is so soft, and you can play with it and braid it and everything. You can have Ribbons if you want her, Daddy," the little girl said to her father.
"No, that's okay," her father said and brushed her cheek again with a kiss. "God bless you, little one. Sweet dreams."
Several days later, when Jenny's father came in to read her a story, Jenny was sitting on her bed and her lip was trembling. "Here, Daddy," she said, and held out her hand. She opened it and her beloved pearl necklace was inside. She let it slip into her father's hand.
With one hand her father held the plastic pearls and with the other he pulled out of his pocket a blue velvet box.
Inside of the box were real, genuine, beautiful pearls. He had had them all along. He was waiting for Jenny to give up the cheap stuff so he could give her the real thing.
So it is with our Heavenly Father. He is waiting for us to give up the cheap things in our lives so he can give us beautiful treasure.
Isn't God good?
What are you holding on to, the "fake or the real pearls"?
God only wants you to have the best.

I love these pearl stories. We offer real pearls for your little "Jenny" on our site. Young girls can learn to appreciate these incredible gifts of nature too.We also have children's book in a free e-book which tells pearl stories about www.karipearls.com


Real Pearls?
Two older women, who were rivals in a social circle, met at a party.
"My dear," said the first woman "Are those real pearls?"
"They are," replied the second woman.
"Of course the only way I could tell would be for me to bite them." Smiled the first.
The second responded "Yes, but for that you would need real teeth."


Is this a Pearl?
As the Japanese first introduced the
mabe pearl
, buyers were skeptical. They looked at the half pearl which seemed to have been split in two and asked: "Is this a pearl?"
The Japanese answered in their heavy accent: "ma-be."
Gave Those to Muh First Wife
Christmas time finds me super busy wrapping packages for the community at our local mall.
Living Water, our church, operates a FREE gift wrapping center as a service to our city at Christmas time. I also sell pearls and hear pearl stories during this time and will often, to keep customers occupied while we wrap, point their attention to the pearls. Pearl stories come out of these talks. Sometimes customers get conversations going among themselves too...like the day one of these pearl stories was told. I call it:
"Gave those to muh first wife."
First, you need to understand where our community is...Iowa. I love Iowa, but many of the funny stereotypes, I'm afraid, have truth to them. Most of our customers who want packages wrapped are men...I wonder why? Some pearl stories, like this one are about a typically stereotypical Iowa farmer.
I was wrapping a housecoat for a farmer's gift to his wife.
The farmer behind him (a friend of his) said, "Never give a housecoat to your wife for Christmas!"
"Why," the man asked
The first farmer replied, "Gave a housecoat to muh third wife and she left me. Gave a housecoat to muh second wife and she left me....that's why"
"Oh......,but my wife asked for one," said his friend, sounding pretty confident in the stability of his marriage.
So, trying to boost my pearl sales, I said to the first farmer..."You should have given her pearls!"
"Nope, he said, "Gave those to muh first wife!"
Well....so much for that sales technique...but I love hearing pearl stories.