Natural Pen Pearls for Sale
Pen pearls or pinna pearls for sale.



Pen Pearl


Color: silver gray lustrous
Shape: Baroque
Weight: 39.50 carats
Size: 33 x 24.5 x 14mm
More Photos
Price: $3,999



Pen Pearl


Color: Dark, dark brown, almost black
Shape: Drop
Weight: 135.55 carats - total
Sizes: 17x12.5mm, 17x10mm, 16x10.5mm, 15x11mm, 14.5x9.5mm, 13.5x10mm, 14x10.5mm, 15x10.5mm, 15.5x10mm, 14x10mm, 13.5x9mm, 13.5x8.5mm, 13x10mm, 12.5x9mm, 14.4x8mm, 11.5x8mm
More Photos
Price: $6,778



Pen Pearl


Color: Dark Brown
Shape: Round
Weight: 0.20 carats
Size: 3 x 3mm
More Photos
Price: $45



Pen Pearl


Color: Dark Brown
Shape: Drop
Weight: 1.30 carats
Size: 6.5 x 6 x 6mm
More Photos
Price: $99 SOLD!



Pen Pearl


Color: Brown
Shape: Drop
Weight: 2.10 carats
Size: 8 x 6.5 x 6.5mm
More Photos
Price: $141 SOLD!



Pen Pearl


Color: Dark Brown
Shape: Round & Off Round
Weight: 2.65 carats - total
Size: 7 x 5.5mm & 6 x 6mm
More Photos
Price: $169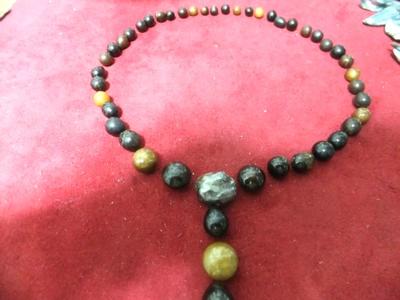 Pen Pearl Necklace
More photos

Number of Pearls: 46
Total Carat Weight: 228.03ct
Pearl Weights:12 ct - 42 ct
Pearl Shape: round, oval & baroque
Certificate: Available Upon Request

Sorry, No longer available
Pinnidae is a family of large saltwater clams sometimes known as pen shells. They are marine bivalve molluscs in the order Pterioida.
The shells are fragile and have a long and triangular shape, and in life they are anchored in sediment using a byssus. The shells have a thin inner layer of nacre in the part of the shell which is near the umbos (the pointed end.)
The family Pinnidae includes the fan shell, Atrina fragilis, and Pinna nobilis, the source of sea silk. Some species are also fished for their food value.
The Pinnidae have considerable economic importance in many parts of the world. They produce pearls of varying colors. In the Mediterranean area, material made from the holdfast or byssus of Pinna nobilis Linné has been utilized in the manufacture of clothing for many centuries: gloves, shawls, stockings and cloaks. Apparel made from this material has an attractive golden hue and these items were greatly valued by the ancients. Today, pinnidae are eaten in Japan, Polynesia, in several other Indo-Pacific island groups, and on the west coast of Mexico, In Polynesia, the valves of Atrina vexillum are carved to form decorative articles, and entire valves of larger specimens are sometimes used as plates.
What Other Visitors Have Said
Click below to see contributions from other visitors to this page...