Show Your Favorite Pearl Jewelry
We all have a favorite pearl jewelry piece....right?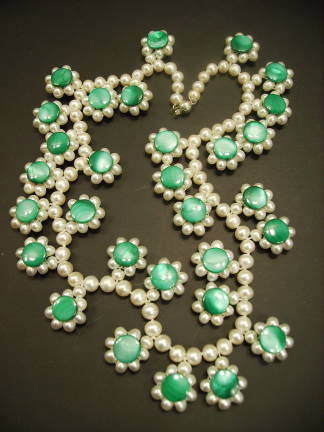 Pearl Emerald Necklace
Show us a photo and tell us all about your pearl jewelry. Don't forget all the juicy details of where, when, who, and why the piece is special to you.
Here's one of my favorites. I actually have two favorites, a freshwater pearl lavender rope and this one that I designed one night when I couldn't sleep. I used a basic 6-7mm pearl necklace as a foundation and added vintage emerald green pearl buttons surrounded by small pearls and attached them thickly over the whole necklace.....sorry, it's not for sale. Vintage shank pearl buttons were made and dyed here in Muscatine, Iowa and are quite rare, especially in this vivid emerald green color, which remind me of emeralds making this necklace very "Queenly" in appearance.
My arm could be twisted to make you one with black vintage pearl buttons, though, if you also find this a stunning piece.
Estate pearl rings for sale here.
Show Us Your Favorite Pearl Jewelry
Do you have a great story about your favorite pearl jewelry? Share it!
What Other Pearl Lovers Have Shared
Click below to see contributions from other visitors to this page...

Have you found a natural pearl? Tell the world about it here after showing us your favorite pearl jewelry.
Free Newsletter