Minnesota River Pearls Ring
by Verna Olson
(Echo, Minnesota)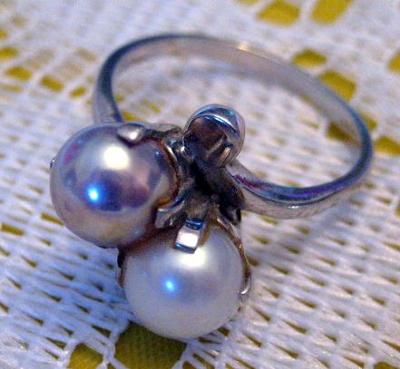 Ring with natural Minnesota River Pearls
Years ago, Verna Olson's son, Duane, found some extra special natural round pearls in clams he was using for bait from the Minnesota River. One pearl was white, the other lavender.


It was obvious that these pearls were exceptionally lovely and he had a ring made for his mother out of sterling silver to showcase them.
The Olson farm literally sits on the banks of the Minnesota River and many years ago, during the pearl button rush days, not far down stream a famous and valuable pearl was found by the Reckendahl Farm. It's been told that the Reckendahl pearl sold for thousands of dollars.
I, Kari, the owner of this site, grew up not far from the Olsons, and visited Verna to photograph her ring.
I remember happy days as a youngster floating down the Minnesota River with the Olson kids, David, Janet, Duane and Linda. It was so much fun to straddle a small log and float away.
It was delightful to chat with Verna about her ring and to hear her stories of people I knew. She even invited me to go through her "give away" box of knick knacks and I couldn't resist a lovely vase and blue and white tray with Chinese motifs.
Verna is a very blessed lady to have a ring made with natural Minnesota River pearls!