Kari Anderson
Owner of KariPearls
Okay, here's a page about myself, Kari Anderson, a GIA pearls graduate.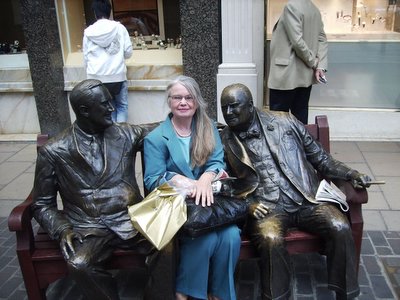 Roosevelt-Kari-Churchill Consulting on Bond Street, London
Basically, I'm a mom turned "pearl nut" as I've fallen in love with natural pearls. The result is this gargantuan website which continues to grow. It's fun. It's work. It's a labor of love, love of natural pearls and those who enjoy them.
Natural pearls are those formed entirely without any intervention from man. They are found throughout the entire world in both saltwater and freshwater.
It is my joy to offer exotic natural pearls from Basra pearls dived for in the Persian Gulf to spike pearls from the USA rivers, both in loose form and in unique one of a kind pieces of jewelry from all corners of the world. Deep purple quahog pearls from Eastern USA, brilliant pink conch pearls from the Caribbean, clam pearls with dancing flame, iridescent blue and green abalone pearls, rare spiny pearls and pearl jewelry from yesteryear that has been loved and cherished for decades...all these and more await to be loved anew by you!
KariPearls.com is a unique treasure trove of natural pearls.
Although I provide a vast amount of information about both natural and cultured pearls I sell natural pearls exclusively. You can buy with confidence that any pearl offered for sale on my site is 100% natural and not cultured in any way.
Living near the Mississippi River in Iowa and growing up near the Minnesota River in Minnesota has given me a fascination with tales of natural pearls found in them and had a big influence on me deciding to concentrate on selling only natural pearls.
Living near rivers combined with a desire to help local divers who find natural pearls led me to start selling them on a commission basis. Now, I hear from folks all over the world who have found natural pearls and want to sell them and from people who want to buy them.
I enjoy connecting sellers with buyers and I consider each one of them a personal friend.
Natural pearls are rare. They will increase in value. Buying a natural pearl can be considered making an investment.
I invite you to join the few who have the pleasure of owning natural pearls.
One of my first fun projects when starting this website years ago was to give away cultured pearl baby bracelets. It ended up being so successful that I wrote a true story children's book about it. Free Download Version: "6,000 Pearl Baby Bracelets"
Although the greatest majority of my time, I am at home, which is a lovely, large, family built house on a small sheep farm in Iowa, occasionally I take an international trip.

Our Family Sheep Farm
My "claim to fame" is marrying Mark and giving birth to seven, yes, seven, fantastic kids....I only wish I had more! I also have five grandchildren. I enjoyed homeschooling all seven of my children up to college.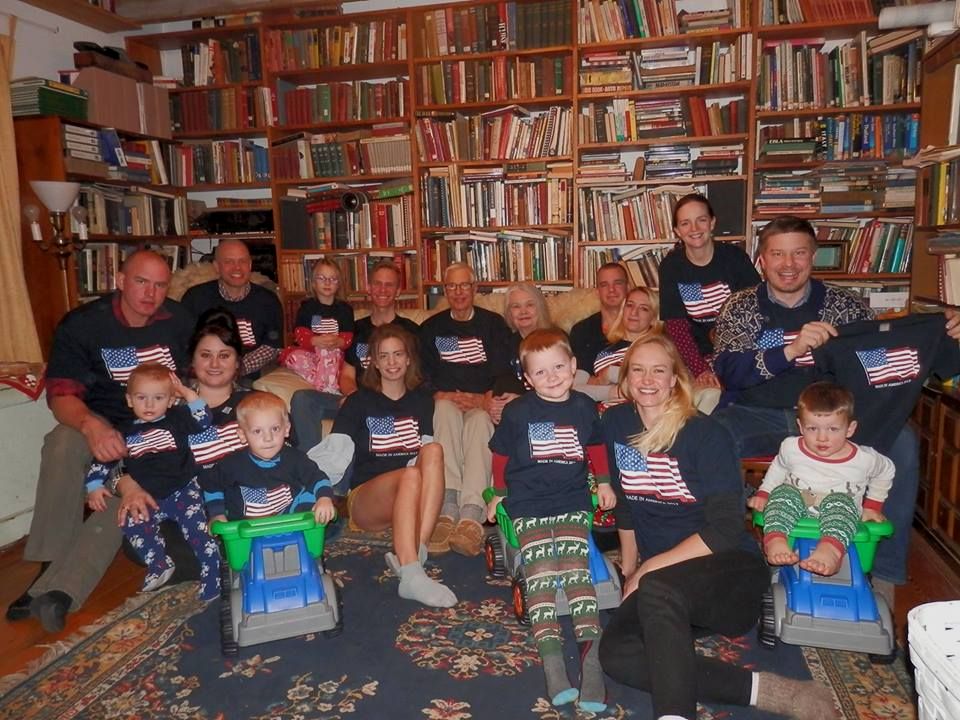 My Wonderful Family
Enjoy my site. It is for YOU! Thanks for visiting. Some of my trips are below.
About ten years ago Anna came to me, Kari Anderson, and said, "Mom, I've just heard on the radio that airfare is really cheap to London right now."
I said, "Oh, that's nice. People will save lots of money." Then I chuckled and asked why she was telling me this.
The next day, she came back to me and said, "Mom, why are you laughing? I think God wants you to go to London."
Now I take things like this seriously, so decided to pray about it and see what Mark thought of the idea.
God gave me peace and Mark also thought I should go.
So....off I, Kari Anderson, flew to London, not knowing why.
Now, the rest is sort of a long story.
But that trip "got me going...and going...and going...."
Usually I'm home though, taking care of things here...all the normal "mom stuff" and in the summer I "love" to swim in our pond.
I've also am having a blast making my this website about pearls.
And I'm helping my cousin make a website about Norway: Norway Hei.
Stay tuned as I, Kari Anderson, add my travel insights here.
Some of my trips come about in interesting ways...like through a dream or even a number given to me in the night.
Sometimes I need to solve a mystery and then go.
It certainly makes life exciting.
So.....check out where Kari Anderson has gone...again!
Australia
Boogie Boarding on Gold Coast
Austria
Azerbaijan
Baku Apartment
Kari in Baku
Maiden Tower Baku
American in Azerbaijan
Job Variety in Azerbaijan
Two Cups of Tea in Baku
Baku Baku
Birthday Party at ANS TV Baku
Bahrain
Shopping in Bahrain
Belgium
Canada
China
Ordering in Chinese With No Words
House Church China
Chinese Soldiers
Big Photos of Pudong District in Shanghai
Bargains at Great Wall of China
Czech Republic
Czech Republic Art
Gehry Dancing House
(Former) East Germany
A Journey
England
Moping Around Carlisle
Vikings in England
Holy Trinity Brompton
River Thames Coughs Up Ancient Artifacts
Street Preachers in the United Kingdom
Pickford House Georgian Museum in Derby
Buckingham Palace Tours
Buying a New Banana Clip at the Head Gardener
Feeling Loved by a Loyal English Penpal
UK Adventures
Estonia
Haapsalu Shawls
Ilon's Wonderland
Artwork of Ilon Wikland
Ethiopia
Finland
France
Photos of the Louvre Museum
Germany
Hungary
Szentendre Doors
Budapest Bridge
Hong Kong
Iceland
India
Iran
Kish Island
Ireland
Israel
Japan
Toba, Japan...Great for Researching Mikimoto
Jordan
Petra Experience
Wadi Rum & Madaba Mosaic
Kenya
Kuwait
Kuwait Independence Day
Liechtenstein
Mexico
Malawi
13 Advantages of Living in a Mud Hut
Surviving a Malawi Tropical Storm
Malawi Children Singing Video
Netherlands
New Zealand
North Ireland
Attending Church in Belfast
British Flag Flies over Belfast
Titanic was Built in Belfast
Encounter with Belfast Cops and Paddy Wagon
Street Preachers in the UK
Norway
My Not So Stuffy Norwegian Heritage
Philippines
Santa Cruz Island
Portugal
JohnErik in Lisbon
Lisbon Photos
Vasco da Gama Memorabilia in Lisbon
Sines Birthplace of Vasco da Gama
Vidigueira "gives up the bones" of Vasco da Gama
Qatar
Romania
Scotland
Senegal
South Korea
South Africa
Svalbard
Brrrrr....Svalbard at the Top of the World
Extreme Snowmobiling in Svalbard
Zip Over to the Russian City of Barentsburg
Switzerland
Syria
Turkey
Cappadocia Valley
Ihlara Valley
Explore Cappadocia
Photos of Cappadocia
Cappadocia Valley
Cappadocia Cave Hotel
Surviving A Bosporus Crossing
Jason's Church on the Black Sea
Visit a Turkish Stone Village
Ancient Ani
Photos of Hagia Sophia Museum in Istanbul
Mosaics of Jesus in the Hagia Sophia in Istanbul
Viking Warriors in Ancient Byzantium (Istanbul)
Istanbul
United Arab Emirates
Atlantis Aquarium
Atlantis the Palm Hotel
Crossing Dubai
United States of America
Sod B&B in Minnesota
Sioux Indian Memorials
Mighty Matt & Interstate Highway 35W
Wooden Water Towers in NYC
Wales
Madame Fromage in Cardiff
Welsh Rarebit Recipe
Street Preachers in the UK
Cardiff Stone Animals
Travel Tips
Anderson Globe Hoppers
Be a Kind Kari
Pearls of Faith