Princess Diana Owned and Wore this Pearl Studded "Elvis Dress"
Princess Diana commissioned this dress in 1989.
Pearl Dress which belonged to Princess Di
The jewelry collection at the Victoria & Albert Museum in London wasn't available for viewing...sad, sad....but I decided to have a look around anyway.
Since it was London's Fashion Week, I enjoyed a brilliant display of dresses from all periods including Princess Diana's "Elvis dress".
This dress worn by Princess Di took my breathe away...well, almost. I've been wanting to write a page about it and I never dreamed I'd ever be able to see it in person!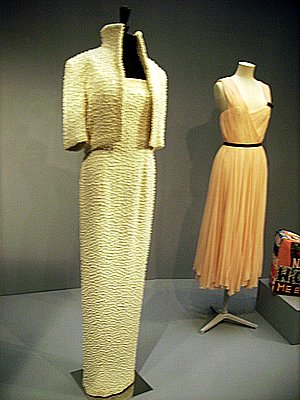 Recent Acquisition: Princess Diana's Dress
Turning a corner in the back...not out front where you'd expect...was this special display of recent acquisitions of the Victoria and Albert Museum.
The Resnicks aquired the garment at a 1997 Christie's Auction, the proceeds going to breast cancer and AIDS charity.
Lynda and Stewart Resnick and the Franklin Mint Museum then donated the dress to the Victoria and Albert Museum.
Princess Diana Pearl Dress Jacket
All those little bumps you see are oyster pearls hand sewn on this dress.
I wonder what it was like to sit in?
And was it heavy? I can imagine those pearls added weight.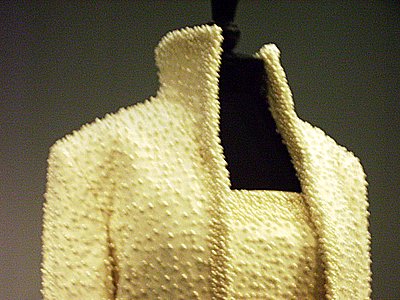 Collar of Princess Diana's dress

While in London I met a young lady on the bus and told her about this dress I'd "bumped into." She said, "Oh, the one with the Elvis collar."
Yes, that's a good way to describe this high stand up collar which looked so elegant on Princess Di.


Diana's Pearl Dress Hem

Around the hem, and edges of the jacket are closer clusters of oyster pearls...making dramatic edging.
Catherine Walker (born in 1945) designed this dress which Princess Di commissioned for an official visit to Hong Kong in November, 1989.
Pearl Dress Di Side View
Catherine Walker said about her design, "I chose pearls because they seemed so appropriate for a visit to the Orient."
The dress is made of silk with oyster pearls and sequins. Embroidery was by 5 Lock LTD. What a thrill it must have been to work on this dress.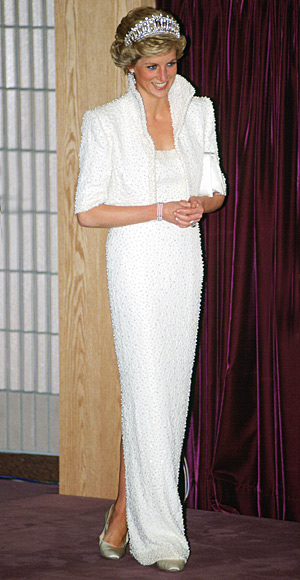 Princess Diana Wearing Elvis Dress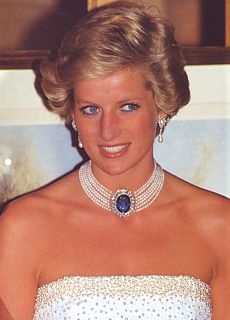 Princess Diana Wearing Elvis Dress
You never know when God will give you the desires of your heart...maybe you'll see something you've been wanting to see soon!
Then a few days later I stayed in a B&B where there was a picture of Diana wearing this dress.
Diana stamps
Buy some posters or photos of Diana.
Buy Diana crystal jewelry for dolls.
See the palace where her apartment was located in Kensington Palace.
Buy things pertaining to Diana's Wedding.
Diana's biography for sale.
Diana memorial stamps, etc.
Diana Tribute Items.
Diana Dresses for your doll and you.
Princess DianaPearl and Tiara things for sale.
Diana Concert Items
Diana collectibles for sale.
Diana coins here.
Cross Stitch Diana Kits
Diana Dolls
More People and Pearls
John Steinbeck - The Pearl
Catharine de Medici
Empress Eugenie
Mary Policastro's Gift
Young Gemologist
Pearl Buck
Linnaus--Father of Natural History
Elizabeth Taylor and La Peregrina
Pearls on Men

The Queen Movie (Queen Elizabeth II)
Marco Polo & Pearls
Columbus Historical Account of Pearls
Pearls of Christopher Columbus
Audrey Hepburn's Dress Sells High
8 Movies of Pearl White in "Perils of Pauline".
Anna Pavlova Pearl Pendant
Sir Francis Drake Jewel
Jamie Baker Karipearls Model
Princess Diana Picture in Pearl Dress
Mikimoto-Pearl King