Sir Francis Drake Jewel...presented by Queen Elizabeth I for Heroic Deeds.
Sir Francis Drake Jewel with a large natural teardrop pearl...another of the U.K.'s many historical items.


London, naturally, is filled with treasures centuries old and the Victoria & Albert Museum specifically is blessed with ancient curiosities.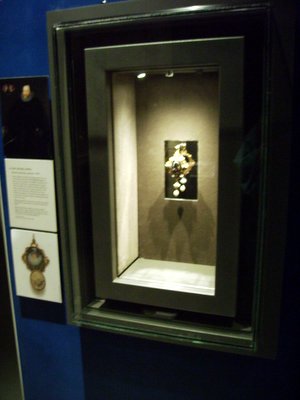 Yes, I was very disappointed the jewels of the V&A weren't open for public viewing...certainly pearls must abound, but my visit was worth the look around. Seeing this Drake Jewel was thrilling. Although photos through glass don't do justice, but give the general idea.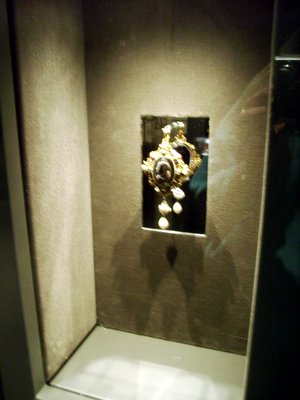 This large pendant teardrop pearl was, yes, large, but it lacked the lustre one would hope to see in a jewel of this importance and significance. I think the luster would have remained. Being a natural pearl and of lovely uniform shape, it still was a valuable pearl. I love seeing natural pearls!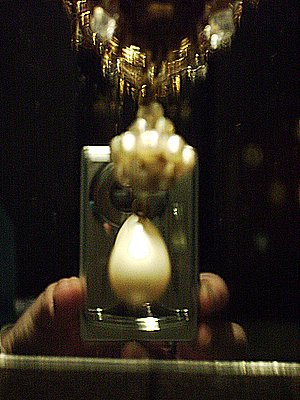 The following information was provided about this
Sir Francis Drake Jewel
Dated unclearly probably 1586
Family tradition records that Elizabeth I gave this Sir Francis Drake jewel to him sometime between 1540-1595. Although the date on the jewel appears to be 1586, it possibly was given later in commemoration of Drake's role in the defeat of the Spanish Armada in 1588.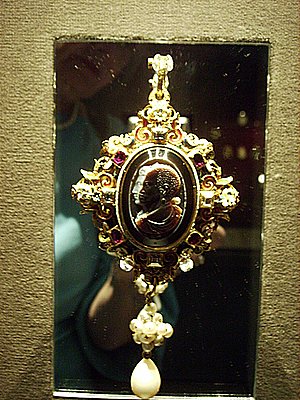 He is shown wearing the jewel in a portrait painted in 1591. You need to really look closely to see the jewel he's wearing at his waist level...sorry, it's barely distinguishable in this photo. I wondered where a man would wear such a jewel.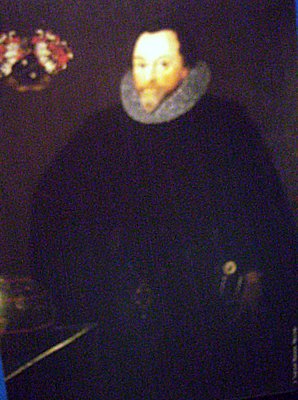 Inside are two miniatures
One is of Elizabeth I and the other of her emblem, the phoenix.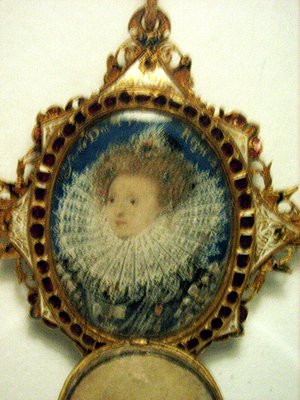 The cameo has been skillfully cut to create two heads using contrasting colored layers of stone.
You'll need to look close to see these. Photographs through glass reflect light and don't come out clearly...but I think you can see the black head and white head, one on top of the other if you study the photo closely...a fascinating cameo. I've never seen a double one before.
The miniature is watercolor painted on vellum; enameled gold, sardonyx cameo; table-cut diamonds and rubies; pearls.
Miniature painted in London by Nicholas Hilliard (born in Exeter, Devon, possibly 1547 and died in London, 1619); cameo possibly Italian; the jeweled case made in London by unidentified goldsmith.
Wouldn't you love to be able to donate such a treasure to your local museum...or better yet, pass it down as a cherished heirloom?
Remember now the next time your local Queen gives you a large natural pearl pendant for your heroic deeds to hang on to it for future generations to enjoy.
Go to main People page after learning about the Sir Francis Drake Jewel
Search here.
Photos and Text © by www.karipearls.com