Pearl of Allah -- A Pearl in Current Events
Scroll down for an article about the Pearl of Allah from World Net Daily, October 29, 2004.


More Famous Pearls
Seeing the Abernethy Pearl
"Palawan Princess" 5# Pearl
Largest Known Fossil Pearl
Largest Nacreous Blister Pearl??
Hungarian Pearls
Golash Quahog Brooch
Weights of Great Pearls
Ancient Egyptian Pearls
Duchess of Windsor Natural Pearls
World's Largest Attached Blister Pearl??
Susa Pearls-Oldest Pearl Necklace
Baroda Pearl Carpet
Baroda Pearls Sell for $7 Million
Baroda Pearls of India
Allure of Pearls at Smithsonia Institute
Famous Pearls and Collections
Pearl Jewelry of British Museum
Men & Beastie Pearls of British Museum
Abernathy Pearl of Scotland
Video of Natural Pearls in History
2,000 year old pearls from Iowa
Columbus Pearls
Pearls A Natural History Exhibit
Famous Pearls
Royalty Pearls
Pearls in History
Queen in Pearls
La Peregrina
Russian Pearl Caps
More Famous Natural Pearls
Click below to see contributions from other visitors to this page...

Trail of Terror
Bin Laden bedazzled Saddam with $60 million Pearl
'evidence of al-Qaida link'

Posted: October 29, 2004
1:00 a.m. Eastern
By Aaron Klein
© 2004 WorldNetDaily


Osama bin Laden tried to purchase the world's largest pearl, the Pearl of Allah, as a gift to Saddam Hussein "to unite the Arab cultures," and Hussein was prepared to accept, according to the pearl's owner.
Victor Barbish, who owns 66 percent of the pearl on behalf of his daughter, (Peter Hoffman is co-owner), told World Net Daily he received an offer in 1999 from individuals who said they were "from bin Laden's group" to purchase the pearl of allah for $60 million to give to Hussein as an overture of unity between al-Qaida and the Iraqi government.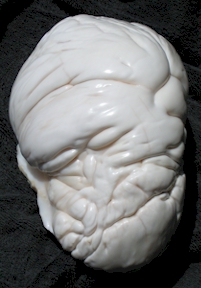 Pearl of Allah
The Pearl of Allah, (Pearl of Lao-Tse) the largest pearl on record, was recovered from a giant clam on May 7, 1934, off the coast of Palawan Island, Philippines. The pearl is 9.4 inches long and weighs about 14 lbs. According to the "Guinness Book of Records," the San Francisco Gem Laboratory has valued the pearl at $40 million. The Muslim diver who found the pearl said its surface bore the image of a turbaned face, and he named it the Pearl of Allah.
Barbish says the offer was presented to him in September 1999 by Allen Bhak and Alex Soria of Bhak Development, who at the time were reportedly soliciting an investment from Barbish in a business that promised large returns on a European program involving the buying and selling of bank debt, and who were asked by Barbish if they knew of anyone who might be interested in buying it.
Barbish claims Soria and Bhak received the offer in 1999 from bin Laden through Latif Faed, an Iranian immigrant who was starting a chain of gasoline-station stores in California, and Faed's friend Azad Amiri. He says Faed and Amiri told him they were a "direct connection" to bin Laden's people, and that two bin Laden agents would meet Barbish in Denver to ensure he had the pearl and coordinate a $12 million deposit toward its purchase.
Barbish also says a man who identified himself as Muhammed Faed, a contact for Saddam Hussein in London, was involved in the negotiations and told Barbish that Hussein was prepared to accept the pearl as a token of unity with bin Laden.


I was thrilled to see a realistic life size copy of the Pearl of Allah in Tokyo at a Pearl Exhibition in the fall of 2005 at the science museum in Ueno Park. It, along with a very large Tridacna Gigas clam, was the first thing one saw when entering the exhibition. I immediately knew that it was this fantastic pearl!
I now have a copy of this pearl myself. See comparison with Pearl of Elias here.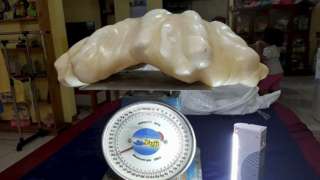 New World Record Pearl - 34 kilograms


Compare this pearl with another large tridacna pearl.
More natural pearls after Pearl of Allah.