Abernathy Pearl...Found in 1967 in River Tay, Scotland
Abernathy Pearl...what's so special about it anyway? Why would I travel all the way from Muscatine, Iowa to Perth, Scotland just to see a pearl? (I have just been informed that the correct spelling is Abernethy.)

Well, first of all, I didn't come this far just to see "Little Willie," (Abernathy Pearl) but since I was exploring the U.K. from bottom to top, I decided to make my way to Perth and see this famous pearl. God actually gave me a dream that I should venture over here now...so I gladly obeyed!
Read about me seeing the Abernethy Pearl here.
Little Willie, as this pearl is affectionately called, was found in 1967 by a well-known pearl fisherman by the name of William Abernethy...hence the nickname. It came from the River Tay. I saw this river today...a fast moving river. The speed and rapids totally surprised me as I'm accustomed to the slow steady flow of the mighty Mississippi River near my home. Salmon and trout fishing is popular in the River Tay. (I saw a replica of the record Salmon today in the local museum...a very, very large one and caught by a woman.)
Little Willie the Abernathy Pearl amazes the eye.
It's hard to realize the Abernathy pearl (Abernethy) is a freshwater river pearl, which came from a Unio Margaretifera mussel, so perfectly round, so large (comparable to the size of a marble) and full of glowing luster. It was like you could look into it, not just at it. What a treasure! Fortunately, the Abernathy pearl is on display for the public to view at Cairncross Jewelry Store in Perth, Scotland.
John Lochtie, of Cairncross Jewelers, which is only blocks away from the River Tay, kindly spoke with me about the freshwater pearl business. Before laws forbidding pearl gathering in Scotland, they would literally buy all the freshwater pearls that pearl fishers brought them. Pearl fishermen were often traveling people such as gypsies. Now, since the new laws, natural pearl supplies on hand are dwindling.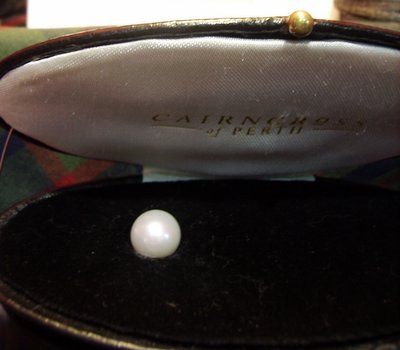 Abernathy Pearl (Abernethy)in Case (photo by Kari Anderson)
River pearls are legally sourced by Cairncross in accordance with the Wildlife and Countryside Act of 1981 (as amended).
Mr. Lochtie showed me this graduated pearl necklace which he's been assembling and now feels he'll never be able to finish. Finding matching natural pearls for stud earrings is also impossible.



Natural Pearl Necklace in Process (photo by Kari Anderson)
I loved seeing this natural pearl necklace in process. The natural pearls wore various subtle shades, pink, white, grays...each unique and each very round. This would be some necklace if ever completed and worth thousands of dollars. I asked Mr. Lochtie if he was ever able to make a graduated natural pearl necklace while also matching the color shade of pearls. He said, "Yes, he'd made one with pink pearls." Lucky lady, I thought, who has that necklace.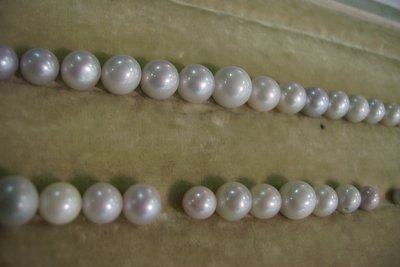 Natural Pearls, Perth (photo by Kari Anderson)
Cairncross Jewelers carries a number of designs inspired by native Scotland which contain natural Scottish river pearls. Brooches named Bluebell of Scotland, Fern and Hill Heather Bouquet, Scottish Thistle, Wild Baeberry Spray, Crowberry Spray and a special one inspired by Robert Burn's poem, "To a Mouse," tim'rous beastie, containing a tiny gold mouse.



Tim'rous Beastie Pin (photo by Kari Anderson)
They also have necklaces, earrings, rings and a kilt pin called the Wallace Sword based on the sword of William Wallace and crafted in solid silver and set with "rustic" brown Scottish freshwater river pearls. Prices range from £85-910. You can pretty well double that to make USD, United States Dollars.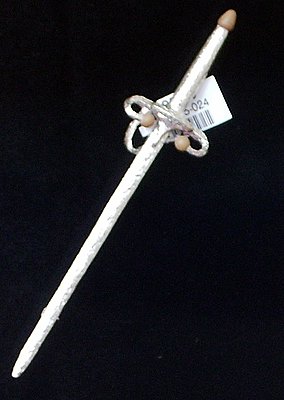 Wallace Sword Kilt Pin (photo by Kari Anderson)
Cairncross Catalog
Here's what the catalog says about their natural freshwater pearl business.
"Cairncross is the home of Scottish river pearls.
Ours is a unique collection of unrivaled beauty and originality, fished from the fresh waters of Scottish rivers for generations.


Natural Pearls, Perth, Scotland (photo by Kari Anderson)
Meticulously selected for their subtle hues of cream, white, peach and lilac, each pearl has a setting individually designed around it to enhance its natural beauty and bloom.
The drilling and setting of pearls is an increasingly rare skill which has been passed down through the generations.
Over the years, we have gained a unique understanding and love of pearls which is captured for eternity in the outstanding beauty of each piece of Cairncross Scottish river pearl jewellery."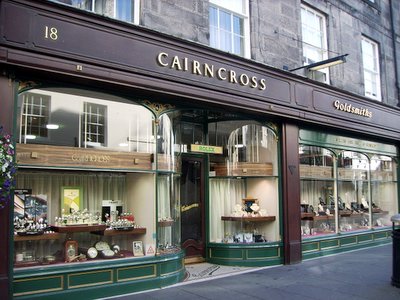 Cairncross Jewelry Store Perth, Scotland (photo by Kari Anderson)
Cairncross Location
18 St. John Street, Perth, Scotland PH1 5SR
Established 1869
Thank you John Lochtie (John told me that Loch means pond, by the way) for patiently and kindly showing me your pearl necklace in process, letting me photograph the Abernathy Pearl and explaining about your natural pearl jewelry business.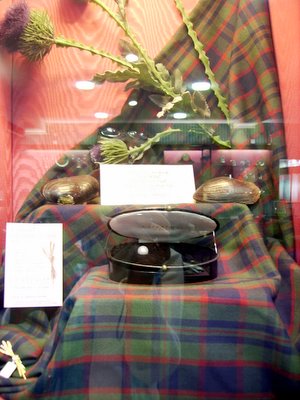 Abernathy Pearl Display (photo by Kari Anderson)
Perth is a lovely town...I found it hard to leave. Large parks, fast flowing river spanned by a 235 year old bridge (still very much in use), vast and varied shopping areas, a brilliant museum and kind, helpful folks. Just a few miles from Perth is Scotland's enchanting Kingdom of Fife.


Kari At Cairncross, Perth
It was worth the trip to see the Abernathy pearl (Abernethy) or Little Willie.
A few of my website visitors have asked about purchasing Scottish pearls and yes, those harvested before the recent law prohibiting the gathering of pearls, can be sold.
Go to main Famous Pearl page after reading about my visit to see the Abernathy Pearl.
Read more about Scottish pearls and the current laws.
See photos, videos and read info about the River Tay.
Read more about "Little Willie" and freshwater pearls in general here.
Book: Last Pearl Fisher of Scotland
Search here.
Photos and Text © by www.karipearls.com