Seeing Scottish Natural Pearl - Little Willie - Abernethy Pearl
Several years ago, I had an interesting experience - one of many.

This one involved a mystery I had to solve, but it actually was easy to decipher because of a similar mystery that I had previously figured out.
Would you like to hear about it briefly?
God gave me these numbers in the night: 44914
How did I know they were from God? I'm not sure. I just knew.
Here's what they meant.
44 is the country phone code for the UK.
914 is a date: September 14
So....I knew God wanted me to go to the UK specifically on September 14, which I promptly prepared to do.

I made a point to visit all the counties in the UK - England, Wales, Scotland & North Ireland.

Wow, I thought, now I can see "Little Willie" the famous Scottish pearl, also called Abernethy Pearl after the man who found it, that was on display at the time at Cairncross Jewelers in Perth, Scotland.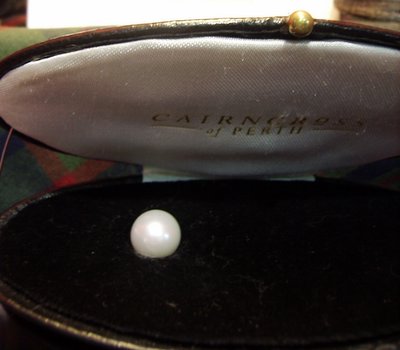 Abernethy Pearl - Little Willie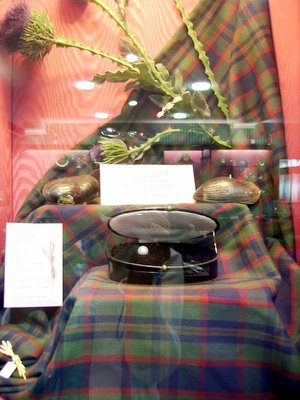 I took these photos and enjoyed a chat with the store owner about natural pearls, which their store has a special license to sell, since it is now illegal to gather natural pearls in Scotland.
Much is being done, however, to bring back the once thriving mussel populations in Scotland.
Little Willie is an average size pearl at 11 carats and 11.5mm with a perfect round shape and lovely luster.
But after seeing the Abernethy pearl I've seen natural USA pearls also with perfect round shape, amazing luster and much larger, so now I think a bit like, "what's all the fuss about this pearl?"
One valuable lesson I learned is to name a pearl that is special. Something, even a pearl, has more value and is easier to remember and identify if it has a name.
I have advised many people to name a unique pearl they've told me about. If you have a pearl that is special to you, give it a name.
I took this photo of the River Tay, in which Little Willie was found, with the Perth Smeaton bridge, built in 1771. This bridge is still very much in use.
I think you will enjoy this vintage video of Bill Abernethy looking for pearls in the River Tay, in his homemade canvas boat.
John, at Cairncross also showed me this necklace he has been putting together of special round Scottish pearls and said he'd never finish it because no more Scottish pearls are being found.


Bill Abernethy, pearl fisherman in April 1989 (photo: http://www.dailyrecord.co.uk)
I had great fun in Scotland. Some folks with very heavy accents were sometimes impossible to understand but that all added to the thrill of being there.
Bill Abernethy was the inspiration for Julia Stuart's novel, The Last Pearl Fisher of Scotland.
I enjoyed reading Julia's creative book.
Enjoy this 3 minute BBC doc about Bill Abernethy!
Read more about the Abernethy Pearl here.
Remember now....name those special natural pearls! One day they might be famous like the Scottish natural pearl Little Willie - Abernethy Pearl.