Pearl Buttons

Pearl Buttons...nothing beats these for solid quality in buttons...especially the vintage ones made in Muscatine, Iowa,USA.
These buttons aren't really made from pearls, but made of "mother of pearl," or out of the clam or mussel shell.
These were prevalent in times past, but now are harder to find and often expensive, if you do find them.
Most mother of pearl or shell buttons today are made in Asia.
Muscatine has a fantastic Pearl Button Museum...be sure to stop in and see it if you're nearby. See Mississippi River pearls. You won't be disappointed!
Apparently, the modern washing machines and soaps would deteriorate the pearl buttons, making them impractical. However, you still find them on better made garments...which is always a thrill...to buy something with these buttons on.
I live in Muscatine, Iowa, which years ago was the "Pearl Button Capital of the World." Ronald Regan even chose the Pearl Button Queen one year.
Years ago (late 1800's and even into the 1950's) there were several pearl button factories here (49 at one time) and many people would also cut out the button blanks in their homes, selling the blanks to the factories for extra cash.
Button making in Muscatine employed over one third of the working force at this time...at least 3,500 people.
Because Muscatine is situated on the Mississippi River, there was easy access to the mussel shells.
Apparently, because of a bend in the river here (for several miles the Mississippi River runs east and west) many clams accumulated in this area.
Bet you thought the Mississippi always ran north and south, like I did...well, not here. It does get confusing...to tell people I live north of the Mississippi River.
Because of this vast amount of available shells, a German immigrant by the name of John Boepple settled here hoping to continue his former occupation of making buttons.
While in Germany, he made buttons from animal horns, but also experimented using fresh-water mussel shells.
There were so many shells punched for pearl buttons that uses had to be found for these cut shells and often they were used for road fill in Muscatine.
Muscatine has two great museums...one specifically for pearl buttons with displays, videos and even free plastic button samples.

Muscatine Pearl Button Museum
117 West Second Street
Tuesdays through Saturdays
10:00 to 4:00 pm or by appointment
Phone: 563-263-1052
Free admission, but donations are accepted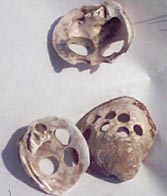 Shells with button blanks cut out
Every now and then, the highway department here in Muscatine, Iowa will need to dig up a part of a street for maintenance and then these punched out shells will be exposed. This happened down the street where we used to live in town years ago and I had great fun gathering up these punched out shells.
Their value increased for me after seeing similar ones for sale in a near-by museum for $9.00 each!
I'd put mine on the dirt around my potted house plants just for decoration, but after seeing what they were worth, I retrieved them, washed them, and carefully put them in a big jar.
When I first came to Muscatine, about 27 years ago, one could still find jars of shell buttons for sale at garage sales, but now people are understanding their rarity and worth, so these finds are becoming fewer and fewer. They are still available, however, sometimes, in local antique shops. in a large variety of colors, styles and sizes...click here for photos and information. Buttons are still made in Muscatine, but the factories produce plastic ones.
Years ago, a friend who worked at one of the local factories brought big pails of "button blanks" to us. These are just round pieces of plastic that haven't yet been dyed, shaped or punched for buttons...probably discarded because of flaws.
They make for great crafting and other exploits...my 12 year old daughter uses them for her "open the door and you'll be showered with button blank tricks on her five older brothers."


BUTTON BLANKS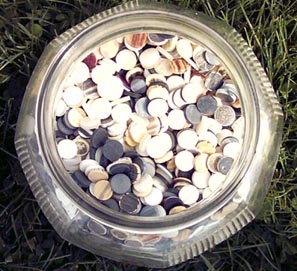 Our city's website provides additional information about the history of the Button Industry
Muscatine, Iowa....former Button Capital of the World
What Other Visitors Have Said
Click below to see contributions from other visitors to this page...

I do think that real pearls would make great buttons...and plan on trying them for some special outfit. Grace Kelly, princess of Monaco, had real pearls for buttons on her wedding dress. Her dress, on display in the Philadelphia Museum of Art, is highly popular.
You may enjoy my other pages about the pearl button industry.
View a vintage button factory that's been "frozen in time" for almost 50 years, and other interesting facts and photos.
Learn more about pearl buttons.

More About Buttons
MOP Cufflinks for sale
Button Necklace
Vintage Button Necklace
Earth Kissed Button Necklace
Rolex Mother of Pearl
MOP Wholesale Necklaces
Muscatine Button Museum
Show us your Muscatine Pearls.
Ever worked in a Button Factory?
MOP Mirror
Video -- Saving North American Mussels
Photos of North American Mussels
Mussels from Minnesota for Buttons
Memories of Work in a Muscatine Button Factory
Vintage MOP Buttons
Shell Button Jewelry
Shell Button Factory
Old Factory Tour
Shells and Button Blanks
1948 Button Article
Shell Button History
Mississippi River Clamming
Mussel Recipes
Antique Oyster Recipes
Easy Oyster Recipes
Tasty Oyster Recipes
Oyster Photos
How to Cook Clams
Clam Recipes
Shellfish Recipes