Shellfish Recipes from Rufus
Use these tried and true shellfish recipes for brilliant success. Man cannot live by bread alone...give him a few clams and oysters too.
The following clam recipes and the oyster recipe are from "Good Things to Eat as Suggested by Rufus," by Rufus Estes, 1857.
BISQUE OF CLAMS~--Place a knuckle of veal, weighing about a pound and one-half, into a soup kettle, with a quart of water, one small onion, a sprig of parsley, a bay leaf, and the liquor drained from the clams, and simmer gradually for an hour and a half, skimming from time to time; strain the soup and again place it in the kettle; rub a couple of tablespoonfuls of butter with an equal amount of flour together and add it to the soup when it is boiling, stirring until again boiling; chop up twenty-five clams very fine, then place them in the soup, season and boil for about five minutes, then add a pint of milk or cream, and remove from the fire immediately, and serve.
Shellfish recipes add variety to our meals.
SCALLOPED CLAMS IN SHELL~--Chop the clams very fine and season with salt and cayenne pepper. In another dish mix some powdered crackers, moistened first with warm milk, then with clam liquor, a beaten egg and some melted butter, the quantity varying with the amount of clams used; stir in the chopped clams. Wash clean as many shells as the mixture will fill, wipe and butter them, fill heaping full with the mixture, smoothing with a spoon. Place in rows in a baking pan and bake until well browned. Send to the table hot.
Don't overlook shellfish recipes for your meal planning. Your family will thank you for it.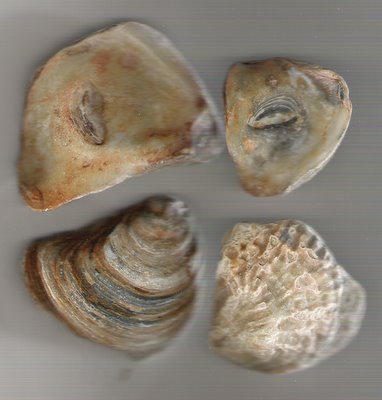 Petrified Oyster Photos Thames River
I found these petrified oyster shells one day scrounging on the Thames River shore in London.
BISQUE OF OYSTERS~--Place about thirty medium-sized oysters in a saucepan together with their own juice and poach them over a hot fire, after which drain well; then fry a shallot colorless in some butter, together with an onion, sprinkle over them a little curry and add some of the oyster juice, seasoning with salt and red pepper. Pound the oysters to a good firm paste, moistening them with a little of their juice, and strain through fine tammy cloth. Warm them over the fire, but do not let them boil; add a small quantity of thickening of potato flour mixed with a little water. When about to serve incorporate some cream and fine butter, garnishing with some chopped oysters and mushrooms, mixed with breadcrumbs and herbs. Add a little seasoning of salt, pepper and nutmeg, some raw egg yolks, and roll this mixture into ball-shape pieces, place them on a well-buttered baking sheet in a slack oven and poach them, then serve.
Shellfish recipes -- nothing quite like them.
Any shellfish can bear pearls...although they may not be valuable, keep your eyes peeled for pearls!
Go here for more pages of shellfish recipes.
Search here.