Delightful and Colorful Mother of Pearl Jewelry
Mother of pearl jewelry crafted from vintage pearl buttons made in Muscatine, Iowa, former "Pearl Button Capital of the World," situated on the banks of the mighty Mississippi River.
Muscatine's new title is: "Pearl of the Mississippi".
Let Sarah and Tessa show how much fun it is to wear Kari Pearls mother of pearl jewelry. You too will enjoy wearing a piece of American history. Here's a sample of our creations.
Big black buttons make great pendants for pearl necklaces.

These pendants are removable...greatly adding to the versatility of your basic pearl necklace.
Big pearl buttons are getting rare...and won't be around for much longer.

MORE MOP JEWELRY
Blue MOP// Yellow MOP// Green MOP// Black MOP// Pink MOP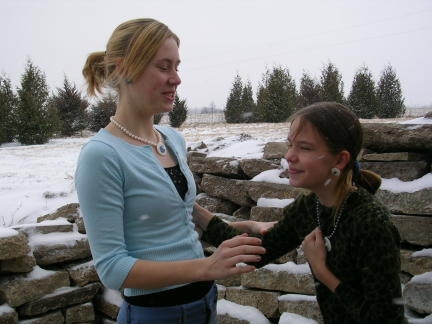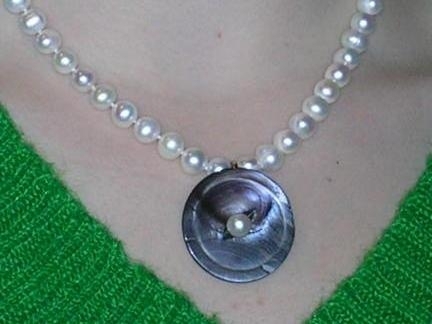 Another removable pendant made from A gorgeous pink carved pearl button. Matching earrings available. It took several steps to make a carved button like this involving lots of hand work





This vintage mother of pearl jewelry crafted from small buckles is great fun....Buckles come in a variety of both bright and darker colors.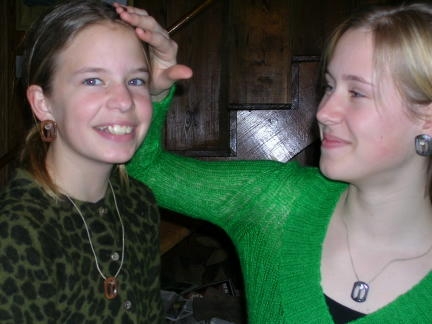 Dangly earrings crafted from two sizes and two colors of buttons...sure to compliment your outfits and get noticed.


Pearls and mother of pearl...there couldn't be a better combination. They started out together and still make a great team...like a mother and daughter in business of making you look beautiful.


Removable mother of pearl jewelry pendant...a really smart idea to get more mileage out of your pearl necklaces. Buy a few different pendants and you'll find yourself wearing your precious pearl necklaces almost every day.