Green Mother of Pearl Jewelry
Green mother of pearl jewelry made from vintage pearl buttons from Midwestern USA.




These vintage shell buttons from Muscatine, Iowa, were soaked for days to get this vivid beautiful color.
Muscatine, Iowa, former Pearl Button Capital of the World, bustled with button making activity during the early part of the 20th century. Almost every family in town was involved in some way or another, from getting shells to cutting the blanks, to refining the design, dying, sewing on cards, or selling.
Green buttons together with freshwater pearls or white buttons come together here for fun and exciting form of historical jewelry.
They're not only collector's items, but practical pieces to enjoy wearing.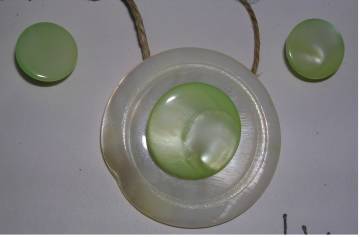 Green MOP Jewelry
My designs liven up any wardrobe and add zest and color--letting the world know that you're not only a lady who appreciates our American heritage, but one who embraces each new day.
Both shank buttons and flat buttons can be combined in endless ways for fun and colorful jewelry.
If you enjoyed seeing this green mother of pearl jewelry, you may enjoy seeing other colors as well by clicking here.
Homepage for Karipearls