Muscatine Pearl Button Museum -- Take a Tour
Muscatine Pearl Button Museum is worth the trip.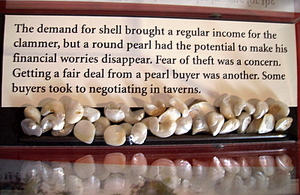 Mississippi River Pearl Slugs Muscatine, Iowa
When I first moved to Muscatine, thirty-one years ago, I was totally fascinated by the local pearl button history. First, I love local history and second, I love pearl buttons!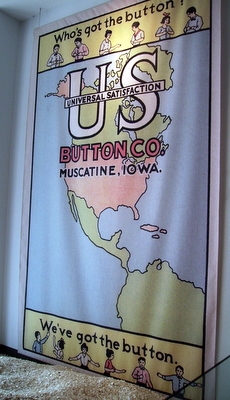 Who's Got the Button? We Do!
Now I'm able to take an active part in Muscatine's colorful past by providing information about the Muscatine pearling industry on KARIpearls.com.
Yes, there were assembly lines...but each button often required several hand processes before it was a finished button ready for use. I love appreciating these folks from Muscatine who worked so hard making these beautiful objects.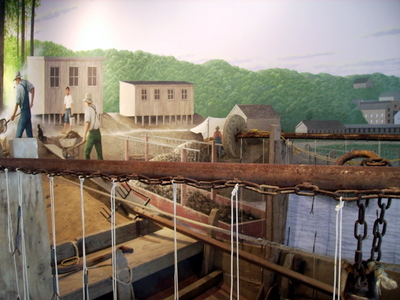 Clamming Mural Reproducing Life at Camp
Muscatine is only a thirty minute drive from the Quad Cities, forty-five minutes from Iowa City, and fifteen minutes from Interstate 80. If you're that close, it is well worth the trip to Muscatine to see this fantastic museum.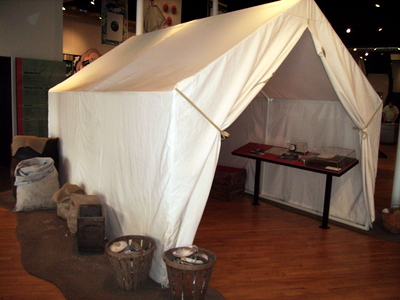 Clamming Tent with Baskets of Shells
After viewing the museum and shopping you can have a great lunch at a restaurant, which is actually in a former Muscatine button factory.
The Muscatine Button Museum takes one back into time to experience life in a pearling camp and every aspect of the process of making a pearl button.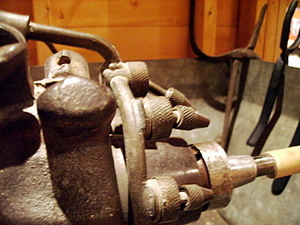 Button Making Machine
Muscatine Button Museum
Upon entering the exhibit, visitors will find a diorama featuring an impressive 36 foot long hand-painted mural and an old clamming boat. This area describes how clams (freshwater mussels) were harvested and how families spent the summer months clamming on rivers throughout the Midwest.
Historic film of various clamming techniques incorporates the words of button industry veterans.
A clamming tent gives one the sense of a clamming camp and while there he can check on the clams by pulling back a canvas flap on a mussel steaming box.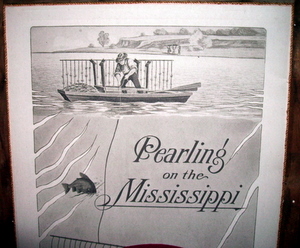 Pearling on the Mississippi Poster
At the Muscatine Pearl Button Museum you get the feel of a backyard shell cutting shop in an area with a blank cutting machine, tools, buckets of shells and cut blanks.
Another popular cottage industry was the carding of buttons and at the Muscatine Button Museum, children can hand sew button on cards.
Children can also "catch" clams with Velcro hooks. Do bring your youngsters, the Muscatine Pearl Button Museum was designed with hands-on activities just for kids!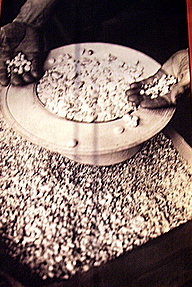 Mississippi River Pearls
Muscatine, Iowa
A large Muscatine map showing 150 locations of former button cutting shops, graphically illustrates the extent of local participation during the 75 year span of the pearl button industry.
Men especially enjoy seeing the Automatic facing and drilling machine, a polishing barrel, a blank classifying machine, a button sorting machine and a line shaft which would have powered most of the machines within a pearl button factory.
Life size photos gracing the background walls of the Muscatine Pearl Button Museum make one feel like you are walking through a real button factory.
You can even try your hand at counting out a gross of buttons, made easier by a nifty hand-held paddle.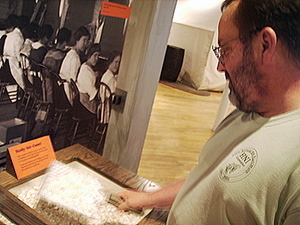 Local Resident, Ed Donald,
Tries His Hand at Counting Buttons
Not only buttons were made from shells. At the Muscatine Pearl Button Museum you'll see necklaces, spoons, souvenirs and discover what innovative people created out of the scrap shells.
Not just button collectors enjoy the extensive pearl button card display. And the large button card banners over head are gorgeous!
You can sit a spell at the Muscatine Pearl Button Museum and enjoy a video with historic footage of women working on factory machines, blank cutting equipment in operation, various clamming methods and button sorting.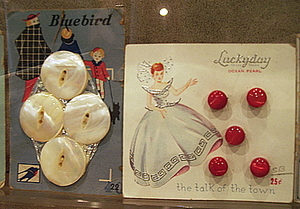 Part of a Large Display of Pearl Buttons
Want to learn more about fish and mussels in the Mississippi River? Come on down to the Muscatine Pearl Button Museum....you'll learn lots.
As you can see by the mussel display in the photo below, this is a great place to explore facts about the Mighty Mississippi.
Did you know Mark Twain once lived here? He helped his brother, who owned the local newspaper.
You'll also want to tour the Muscatine Industry Museum upstairs, which highlights the HNI (HON) office furniture company.
Crazy about pearl buttons? Read more about the Muscatine Pearl Button Museum and the great buttons produced in our city.
You may also enjoy the pearl button displays at the Muscatine Art Center. We're fortunate to have two great museums here in Muscatine.
Muscatine Pearl Button Museum
117 West Second Sreet
Muscatine, Iowa 52761
563-263-1052