Button Necklace "Every Day"
My third "Earth Kissed" pearl button necklace from famous Muscatine pearl buttons that have been gently rusted or "kissed" by the minerals in the earth.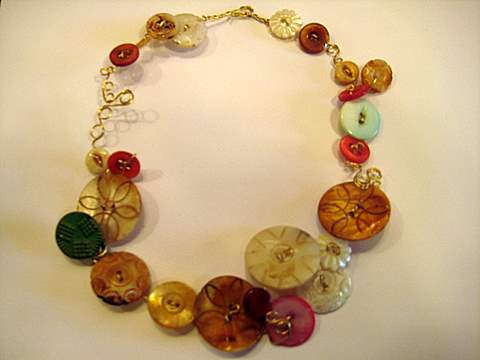 Earth Kissed "Every Day" Necklace
Here is "Earth Kissed" pearl button jewelry that can be worn "Every Day", so that's what I named it. It was fun to take these seemingly useless pearl buttons...seemingly useless because they are now covered with rusty stains....and make them into something beautiful like a button necklace. It's like the story of redemption, taking something lost and finding it, restoring it, making it new and beautiful again.
I like the theme of redemption. Maybe that's why I like old things, old houses, old furniture, old clothes. I like to see the beauty that is still left in forgotten things.
So, I was thrilled when everyone I showed this button necklace to expressed a joyful "I like that!" or "It's beautiful!" No one, at least so far, has said anything about it being weird or quirky or awful. I like that....when we humans can appreciate that which is seemingly lost or forgotten....although I do think it is kind of a quirky pearl button necklace.
Earth kissed buttons are scarce. It would take another forty years to get more of them to make another pearl button necklace.
SOLD!
Go to Karipearls catalog after button necklace.
Earth Kissed Necklace
Testimonies
Dear Kari
I just wanted to let you know that my pearls are gorgeous!! I truly love them!! My friends are all jealous!
Thank you so much...you have a great holiday!!
Laura Day
Kari,
I have to commend you on your willingness to work with us!
I actually found myself smilling at your e-mail because of your kindness!
I am definitely going to tell anyone I know about how wonderful your pearl sale services are!
Lauren
Kari,
Thank you for my peach pearl necklace with two sizes of pearls that you knotted (beautifully!). The pearls are lovely and I've had lots of compliments on them. Wow. A personal note. I really like your site. Lots of information and great photos too. You seem like a generous person...............thank you.
Connie
Kari,
Thank you so much for the beautiful baby bracelets. The skeptic in me did was not sure what kind of bracelet I would get for a dollar but when I saw them I knew that it was worth far more than the dollar and I knew that even more when my 2 year old little girl opened the package and the first thing out of her mouth was "Beautiful"--- thank you so much for making my little girls day!
Nicki
I bought my wife your pink pearl set for Christmas, and she really enjoyed receiving the present. Thank you very much. I chose to buy from your site, because it seemed more personal somehow, than a typical jewelry site. I enjoyed reading the information you provided, and it bore out in a wonderful gift for my wife. Thanks again.
Mike
Hi Kari,
The necklace was beautiful and quite a hit for my sister-in-law. Thank you for sending it so quickly.Happy New Year.
Tamra
Hi Kari,
I bought some pearls from you a few months ago and I just wanted to tell you that I love them!! I never wear them without someone giving me a compliment!! I bought the little girl's braclet for my niece and she will not take it off!! They are truly gorgeous...your pictures do not do them justice!!
Laura
Hi Kari,
My black pearls arrived yesterday. Mondays are long for me, so I didn't get them until I arrived home at 10:00 PM. You said satisfaction guaranteed. I must admit I'm not satisfied. That's far too tame a word. I'm thrilled. The pearls are stunning. When I opened the silky bag and poured them into my hand, I think my heart actually skipped. I'm sure I gasped. The luster is exceptional. Blemishes moderate to light. Great color. I'd have to say I believe them to be better quality than described.
Jeannie Dees
Fayetteville, NC
Purchase Kari's Pearls
Pink Pearls*Lavender Pearls* Black Pearls* Baby Bracelets
Drop Pearl Necklaces
Bridesmaid Jewelry*Child Pearls* Peach Pearls* White Pearls
KariPearls Gift Certificates
Search here.