Child Pearl Jewelry
Purchase affordable real child pearl jewelry here for your children.

Now young daughters don't need to feel left out...they can have their own real pearl bracelet too.
These bracelets are made for small wrists, only bigger ones than baby's.
So, do you have an young daughter who would also like to have a nifty real pearl bracelet?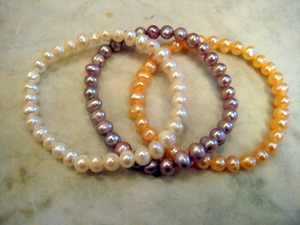 Child Bracelet available in White, Lavender & Pink
These bracelets are
6" or 15 1/2cm
around and are on strong elastic for ease of putting on.
They fit most young girls...even our 12-year-old who is very petite wears this size. Larger bracelets fall off her easily.
To make sure they'll fit...we suggest you measure your child's wrists to see if 6" is a comfortable size.
Pearl size is 4-5mm.
Available colors are: Pink, White & Lavender...all are natural colors in these cultured freshwater pearl bracelets.

Your little girl can feel just like a princess wearing her very own child pearl jewelry bracelet.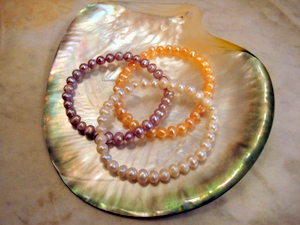 Child Bracelets
Child Pearl Bracelet Details
Length: 6"--Great size for child
Color: pink, white, lavender--Natural pearl colors
Size: 4-5mm pearls--eye-catching size
Shape: Off Round--Interesting shapes
Surface: Slight imperfections--Minor
Luster: Medium--lots of great shine
Sorry, these are no longer available.


Check out the nifty freshwater pearl baby bracelets here.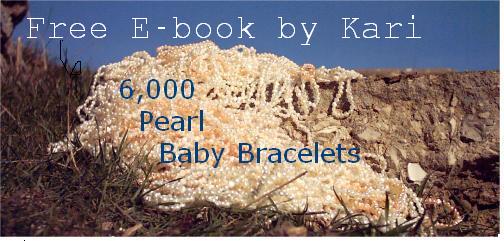 Click above for Free Children's E-Book by me.
Modern Day Pearl Parable
You and your children will enjoy this modern day parable about
child jewelry pearl
called
"Jenny's Necklace"
.
Go to main child pearl jewelry page.
Search here.