Lavender Pearls
Lavender pearls are simply stunning.
It was a joy to me to see them harvested right out of the freshwater mussels in this lovely color.
No color enhancement is necessary as this is one of the natural colors for freshwater pearls.
You'll find yourself reaching for this elegant necklace set often. Enjoy it with blue jeans, to complete your day look or for an added touch of elegance for a night on the town.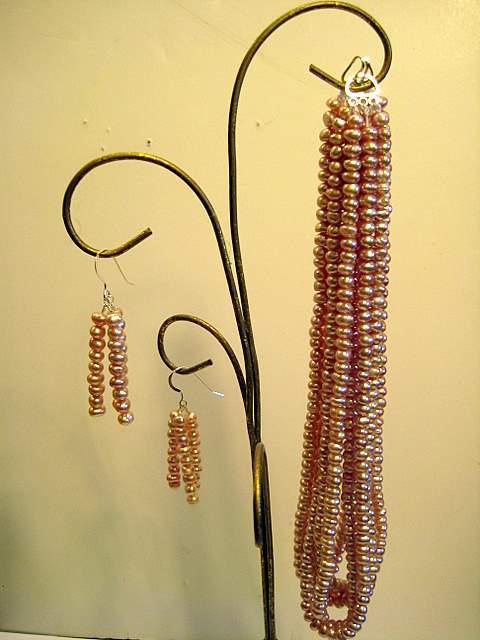 6 Strands of Luscious Pearls & Earrings
17" Necklace and Earring Set
You can almost smell the fragrance of this bloomingly beautiful set.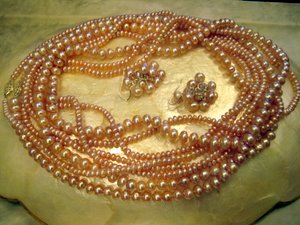 Lovely Lavender Pearls Set
Gorgeous 8 strand necklace which is conveniently made up of two ropes of pearls for endless possibilities...and matching cluster dangle earrings....wow!.
Lavender pearls are simply stunning...and occur naturally...no dyes.
That's what I like about them. The hues are endless it seems...
I grew up very near the Minnesota River and was recently surprised to have a neighbor tell me about a ring of her mother's which was made with a both a white and lavender natural freshwater pearl from that local river.
The lavender jewelry for sale here on my site is from cultured freshwater pearls. To see natural lavender and purple pearls and read stories of how they were found, click here and here. Scroll down to the bottom of both these pages to see several links to pages about natural purple pearls.
Sorry, the following styles are no longer available:

Lavender Freshwater
6 Stand Necklace Set
Lavender Set
52" Lavender Rope & Earrings
7.5mm Lavender Stud Earrings
"June 90"
Lavender Pearls Drop Set
7-Way Necklace
Lavender Dangle Bracelet
"Adorabelle"
"Lavender Lynette"
"Keshi Meshi" Necklace & Earring Set
"Down Lavender Lane"