Lavender Pearl Set
Stunning lavender pearl set I call
"Lavender Lady"
.
Wear it countless ways.
My friend, Hazel Green, who sells Bridal wear and also does alterations here in Muscatine, Iowa, asked me to make this fabulous pearl necklace and earring set.
She fell in love with my lavender pearls when I showed her a hank of them. Yes, they would be the perfect color for her new dress.
So, we came up with the idea to not just make a multi-strand, two sized pearl necklace, but to create a totally versatile set with two very long pearl rope necklaces, allowing for almost endless varieties of style combinations.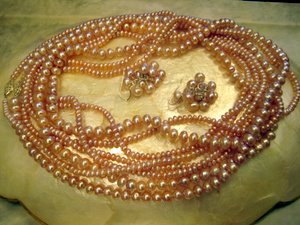 Pearl Set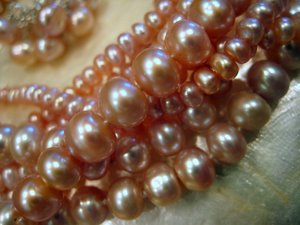 Lavender Pearls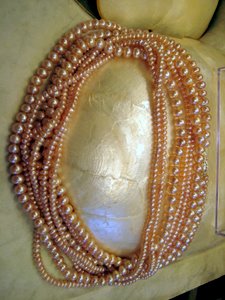 Lavender Pearl Set Necklaces
Instead of simply one necklace of eight strands, I fashioned two long ropes, one 72.5 inches long of 4mm lavender seed pearls and another 52.5 inches long of 7-8mm lavender pearls which are slightly button in shape.
In the photo, the seed pearl necklace is wrapped five times and the other three, making it a luscious 8 strand necklace. Numerous combinations are possible.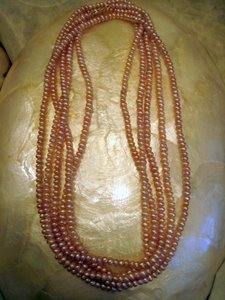 Seed Pearl Necklace
The slightly button shape of these freshwater cultured pearls stamps "affordable" on this set, simply because the off-round shape brings the price of pearls down to manageable price proportions.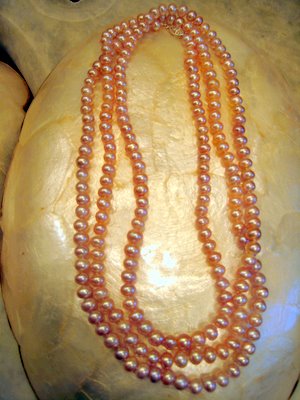 Lavender Pearl Set
The luster, which is the most important pearl factor, of these pearls is excellent, as you can see by the photos.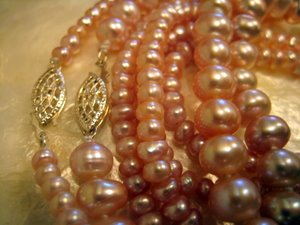 Pearl Clasps
The pearl cluster earrings totally enhance this pearl ensemble, making the set not only a fantastic purchase, but a lavender pearl set you'll want to wear over and over again.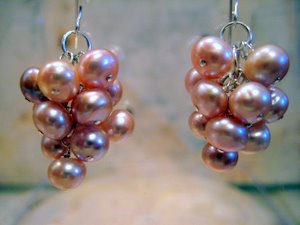 Pearl Cluster Earrings
Hey, I bet it will even inspire you to "go out" more often and give you a new boost at living your life to it's full potential. Marie, one of my pearl customers, was so motivated to improve herself after she started wearing my pearls that she quickly dropped two dress sizes.
In order to save more money to increase her pearl wardrobe, she stared walking to work instead of taking the bus which also caused her to quickly lose weight.
Pearls---motivating? You bet! Just give them a risk free try yourself.
Marie says, "A woman is known by the pearls she wears!" And this set will certainly set you apart.
I haven't taken photos of the various possibilities, but just imagine what you could do with these two coordinating pearl necklaces, one 72.5 inches and one 52.5 inches....let the fun begin!
For starters check out these ideas of ways to wear a pearl rope.
Pearls CloseUp
So...the nitty-gritty details:
Pearl Type: Cultured freshwater pearls....tissue nucleated
Color: Lavender....natural color, no dyes
Shape: Seed and Button....great pearl partners
Luster: Excellent....so shiny
Surface: Clean surface....no unsightly blemishes
Size: Seed: 4mm & Button: 7-8mm....great combination
Matching: Excellent....uniform pearls
Length: Smaller Pearls: 72.5" & Larger Pearls: 52.5"....many possibilities
Metal: Sterling Silver....lovely and affordable
Sorry, this style is no longer available.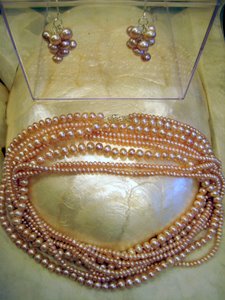 Pearl Set
Go to main lavender pearl page after lavender pearl set.
Testimonies
Hi Kari,
The necklace was beautiful and quite a hit for my sister-in-law. Thank you for sending it so quickly.Happy New Year.
Tamra