Jewelry Lavender Pearl
"Down Lavender Lane"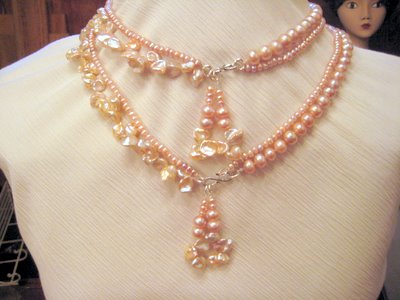 Lavender Freshwater Pearls
Jewelry lavender pearl -- just like walking down a lane of lavender where fragrance encapsulates your senses and the world blossoms into hopeful possibilities.
I really out did myself with these lavender pearls. They were begging to be created into a fabulous piece of jewelry potential.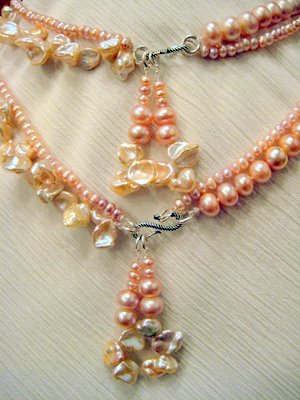 Lavender Freshwater Pearls
You can almost smell the exuberant fragrance of this gorgeous necklace and earring combination. Soooooo many options, you'll go crazy trying them all out.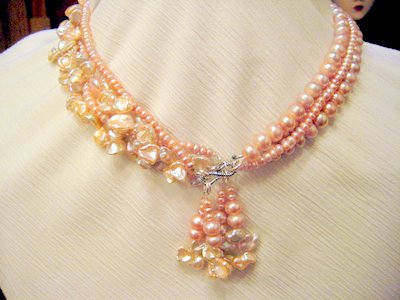 Jewelry Lavender Pearl
This is actually four necklaces which can be worn individually, linked together, wrapped together, intertwined together in almost endless choices.
I've only pictured a few here to get you started. Try other combinations on your own.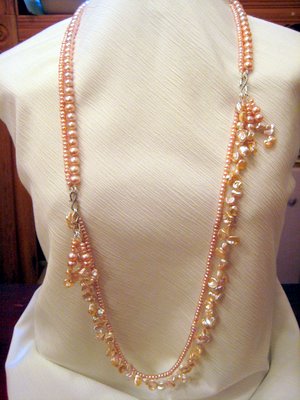 Lavender Freshwater Pearls
I'm hopelessly practical. I think jewelry should "do" something for me and let me manipulate it the way I want, so the less static the piece the more I like it.
That's why I let my imagine run wild when I created this piece. It's all my own design from my own crazy ideas. I'll even make up some sort of a certificate for you that it is my original design and no one else's...a true "KariPearls Original".
Lavender Freshwater Pearls
After all, you are one of God's originals....and you deserve an original jewelry lavender pearl set from KariPearls.
Pearls are beautiful in their simplest form, but they can be lovely when put into designer jewelry like this.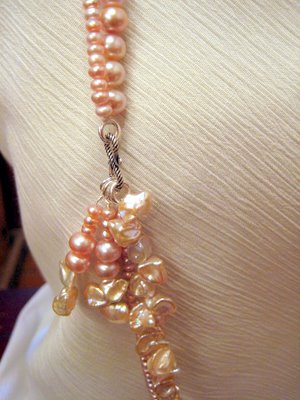 Lavender Freshwater Pearls
The dangles can be added here and there as the loops easily slip on and off the "S" hooks.
Matching earrings add to the fun mix and the dangles on these can also be easily added to the necklace if you wish.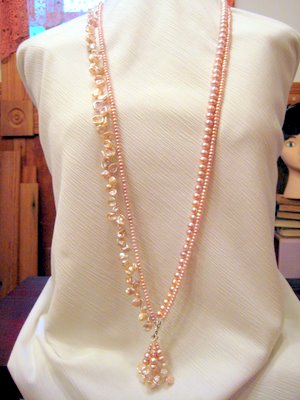 Jewelry Lavender Pearl
I've mixed keshi, button and small seed pearls in four different necklaces for this smashing set. The keshi and button are knotted between each. I left the tiny seed pearls alone, knots would detract too much from the overall effect of these lovely pearls.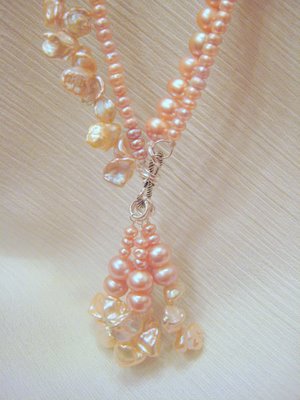 Lavender Freshwater Pearls
I did not show how you could actually hook all four of these into one long rope necklace and wrap it around your neck to your heart's content.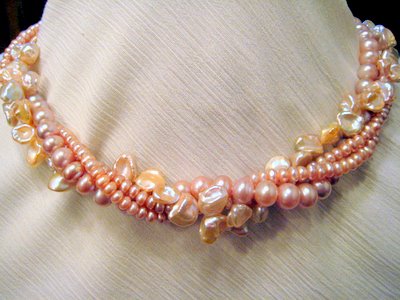 Jewelry Lavender Pearl
Each necklace is 20", so if you hooked them all together in one long rope, you'd have 80" of pure pearl magic to loop and swoop around you.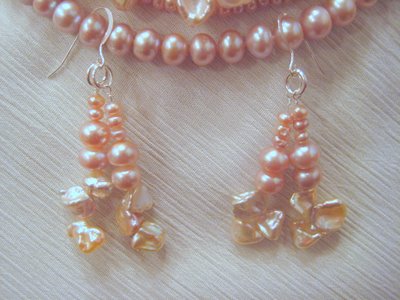 Lavender Freshwater Pearl Earrings
Let your joy explode when creating new ways to wear this neat creation of mine.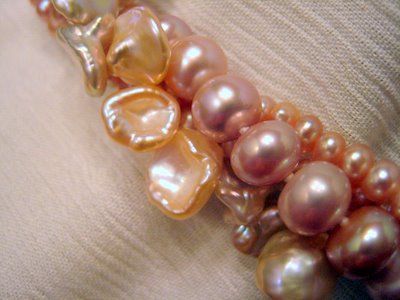 Cultured Lavender Pearls
I love creating and designing....just ask my family. Since we are created in the master designer's image it's natural that we humans also love to create beautiful things out of basic components.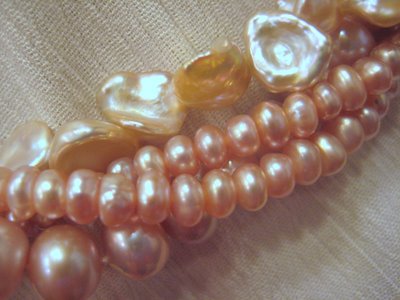 Jewelry Lavender Pearl
Creating is fun and satisfying to my soul. A certain joy explodes inside of me when I create something...that's how God must have felt when He created the world and all it contains...pure joy!
Lavender Freshwater Pearls
So....you get:
1-20" 10mm keshi pearl necklace
2-20" seed pearl necklaces
1-20" 8mm pearl button necklace
4 "S" hooks
4 pearl dangles
1 pair of dangle earrings
All of which can be combined in so many exciting ways.
Nitty Gritty Details:
Pearl Type: Cultured Freshwater
Color: Lavender (natural color)
Size: Seed:4mm Keshi:10mm Button:8mm
Luster: Good
Surface: Good
Various Shapes: Seed, Keshi, Button
Matching: Good
Length: 20"
Clasp: Sterling Silver "S" hook
Earring Metal: Sterling Silver
Sorry, this style is no longer available.

Go to main jewelry lavender pearl page.