Cheap Pearl Necklaces
Cheap pearl necklaces in lavender and pink pearls with several wearing options.


Don't let the title scare you...these are cheap, but they're also lovely and made of real freshwater naturally colored pearls.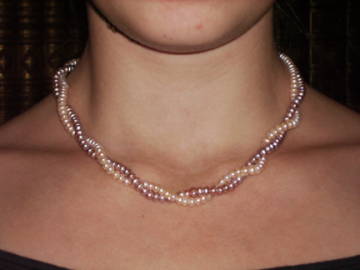 Cheap Pearl Necklaces--Twisted
In all honesty, I was going to charge more for these necklaces. After all, they are our own original design...well, my daughter's original design and she's only 14 years old...off to a pretty good designing start I'd say.
Cheap Pearl Necklaces--Straight
Then I decided, hey...why not sell these as cheaply as possible and give my website visitors a chance to easily own these amazing 7 way necklaces....even more ways when you consider the bracelet options.


Cheap Pearl Necklaces--Single Pink
Take this simply elegant necklace and use it more than 7 different ways as seen in the photos. Sarah designed them with a special "S" clasp of sterling silver so each string of pearls could be removed or relocated. Twist, loop, tie, or use singly...so many options!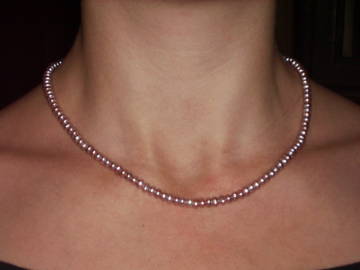 Pearl Necklaces--Single Lavender
You could even purchase two of them and wear one as a matching bracelet or double them up around your neck.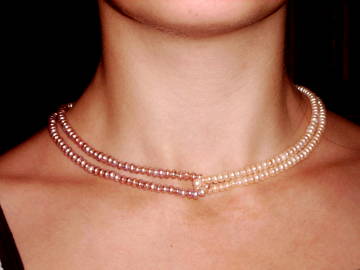 Pearl Necklaces--Looped
Sarah chose the delicate seed button pearls for their flexible, feminine appeal and gorgeous natural lavender and pink colors. As you see in the photos they look striking on her young body frame, but would look just as beautiful on older ladies.
Pearl Necklaces--Knotted
Sarah is my practical teenager. She's dad helper with our sheep and can name most of our flock by sight and probably tell you their mother's name as well. My husband relies on her when he makes out his sheep genealogy charts.
Sarah is known in our large family (we have 7 children) as one ready to give useful advice, such as when I recently spoke to a group of local businessmen here in our city.
Her advice? She said, "Mom, you only need to do three things: Don't say too many ummmms. Don't point out all your mistakes. And...HAVE CONFIDENCE!." (It's embarrassing when my children turn out wiser than myself....)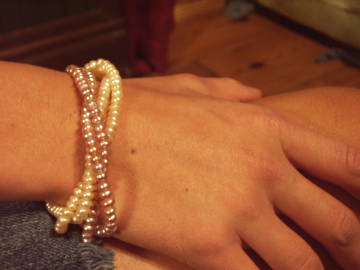 Pearl Necklaces--Twisted Bracelet
But on to the Details of these cheap pearl necklaces. I say plural, because that's what you actually get, several necklace possibilities.
Color: Lavender and Pink--natural God-given colors
Size: 4-5mm
Shape: Button--somewhat flattened like a button
Luster: Medium--lots of near metallic shine
Surface: Mostly clear, but slight imperfections
Length: 16"
Clasp: Sterling silver "S" clasp
Sorry, this style is no longer available.
A "KariPearls Original" designed by Sarah

Go to main Multi-Colored Pearls