Lavender Seed Pearls Necklace


"Adorabelle"
Lavender seed pearls, coin pearls and sterling silver clasp combine in this striking necklace and earring. Wear this eye-catching necklace shopping, on a special night out or to a private party...you can't go wrong.
Coin pearls give this necklace an extra flair...a statement of your vivacious personality that's full of life.
You can tackle any problem, join in any conversation, offer advice for any situation...always game for a good time...that's you, right?
Wear a necklace and earrings that reflects the real you.


Lavender seed pearls are a natural God-given color. I've seen lavender pearls come fresh out of mussels on pearl farms. These pearls are not dyed. Some colors are metallic, some muted, all lavender and when hundreds of these lavender seed pearls are put together in one grand necklace and dangling earrings, they blend rich and pure.
Story behind this necklace:
I thought of my mother, Adora, (photo on right) when I made this necklace and named it after her.
Anyone that knows my mother knows she's always ready for a good time whether it's a fast game of blackjack or a trip to the orient...she's on! It didn't take much convincing to take her along on a pearl buying trip with me.
At age 86 she still lives alone on our family farm, nestled at the end of a very long driveway in rural Minnesota. She loves and has taken care of this place for 46 years.
She used to have such a passion for purple and lavender that she even bought a purple car once... (we called it the "Purple People Eater"...remember that song?) And you should see her purple hats!
Last time my mom visited me, I made her an "Adorabelle" necklace to take home. When I asked if she wanted one of her "namesakes," she kept saying, "no, no, no"...but finally, "Well, if you insist!"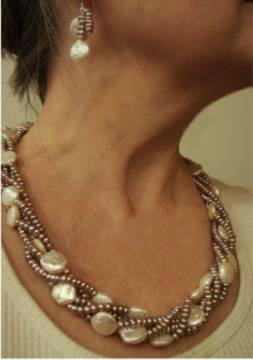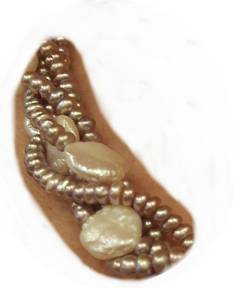 5 strands of natural colored 4-5mm lavender pearls accented with 31 white coin pearls.
Length: 23.5 inches
Matching earrings of 4-5mm lavender pearls and 2 coin pearls each.
Sterling silver decorative clasp
Sorry this style is no longer available.
I never get tired of looking at these gorgeous lavender pearls. Yes, they're lavender seed pearls, but so much more...metallic iridescent colors. Each one is unique.
The contrasting white coin pearls add zip to these affordable pearl necklaces. They can be worn either twisted or untwisted.
Earrings by Sarah, our youngest daughter.

See my mother, Adora, here. She is the life of her red hat club!
And see her in her flower garden here.
Return to Lavender Peals after considering Lavender Seed Pearls.