Lavender Keshi Meshi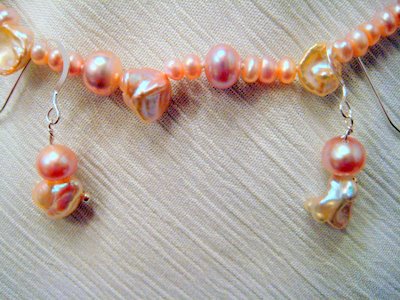 "Keshi-Meshi"
This lavender Keshi set looks off-color because of my amature photography....the pearls really aren't different colors, which is how they look in these photos. Seeing them in person, they look distinctively a soft lavender color.
My friend, Connie, suggested I start selling some keshi pearls, so I've added these lavender keshi. Lavender pearls are my favorite. It's interesting, isn't it....how folks who sell pearls end up making necklaces and buying pearls they like themselves.
So, just like I took Connie's advice, don't be shy about letting me know what you'd like to see on KariPearls.com. Who knows, maybe you'll get me started on a whole new direction.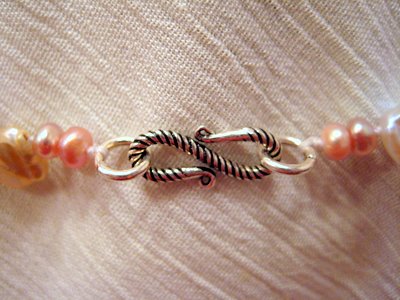 After Marie, from the UK, asked for larger black pearls, I bought those too....so you see, I really do listen to my customers. After all, that's why I'm here, to make you happy!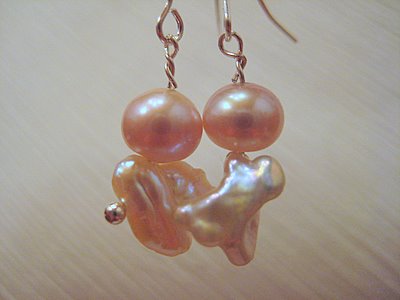 This "Keshi-Meshi" is light, quirky and easy to wear. My daughter, Sarah, just picked it up and said, "Oh, that's gorgeous! Beautiful!"
I think you'll love wearing this set. Keshi pearls happen accidentally during the culturing process.
Nitty Gritty Details:
Pearl Type: Cultured Freshwater Keshi
Color: Lavender (natural color)
Size: Seed:4mm Keshi:10mm Button:8mm
Luster: Good
Surface: Good
Various Shapes: Seed, Keshi, Button
Matching: Good
Length: 20.4"
Clasp: Sterling Silver "S" hook
Earring Metal: Sterling Silver
Sorry, this style is no longer available.

Go to main lavender pearls after lavender keshi page.