Get Creative -- Three Lavender Pearl Ropes
"Lavender Lynette"
I've named this lavender pearl necklace set after my grade school firearms training pal.
For one reason, I was looking for a name that started with "L", plus this just reminds me of Lynette.
Lynette and I went to 13 years of school, K-12, together in Echo, Minnesota and because our class was small, about 24 students, we were more like a big family.
Lynette came to me one day and asked if I'd take firearms training with her. We were 11 years old and her dad was going to teach it. She didn't want to be the only girl and she thought I had enough spunk to consider invading an "all male" world. She was right, I did.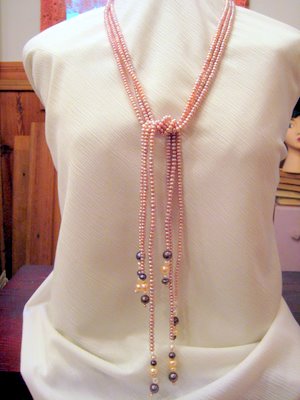 I still remember visiting my father in the barn as he fed the baby calves and asking his permission. He said, "Yes, sure, go ahead." My younger brother, Mike, 10, also took the class.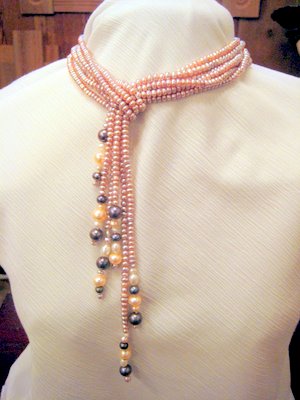 It ended up being quite a large class with students age 10-16 years old. We met in the industrial class room, somewhere we girls never went, making it all feel very strange.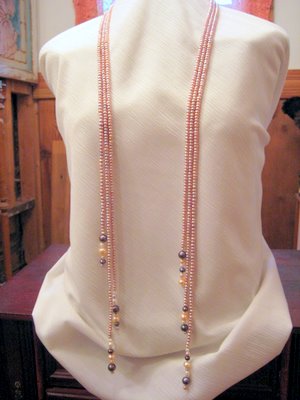 But, Lynette and I, not having the confidence of being experienced shooters like the boys, listened hard and studied long. Our efforts paid off.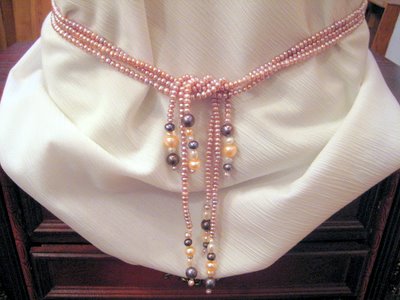 Lavender Pearl Ropes as a Belt
Lynette scored highest and I second on the written test. That was a little hard on the boys, but not too hard....they'd shine on the practical side of shooting.
Matching Drop Earrings
So we target practiced and target practiced and target practiced. Again, Lynette and I listened and learned for all we were worth.
I especially remember trap shooting, shouting "Pull" when I was ready and actually hitting the clay pigeons!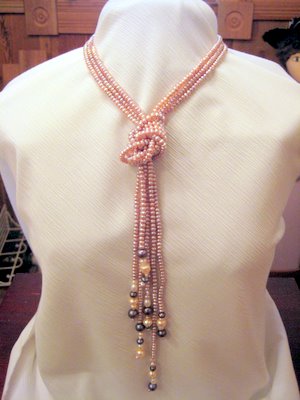 Finally, the big day for the city championship arrived. Since dad only had two 22s, and both by brother and I needed a gun, I was allowed to use the one with the scope, as sort of a handicap or something, not sure, but the leaders said to go ahead.
The shoot happened in a gravel pit by the Minnesota River, right below our family farm. It helped me feel at home, because, Mike, my brother, and I tramped through those woods often and sometimes speared carp in the nearby creek.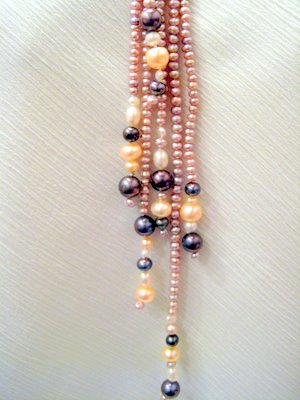 You guessed it. I won! To top it off, Lynette took second. This time the 16 year old boys were fuming. Only one, David Olson, came and shook my hand. (After all, it wasn't my fault that I was allowed to use a scope, right?)
So, as an 11 year old I was our city's sharp-shooter! Pretty funny--and I still have the badge to prove it.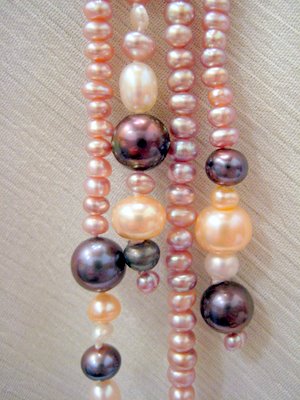 The worst part of the whole deal was I had to participate in the county championships....without a scope. I was petrified into tears, literally, and didn't do well at all, but I did get a badge there too.
So, I've let the photos do the talking about this gorgeous inventive lavender pearl possibility necklace and earring set and now you know a little about my friend, Lynette, too.
Nitty Gritty Details:
Pearl Type: Cultured Freshwater
Color: Lavender, Pink, White (natural color) Black (dyed)
Size: Various 4-9mm
Luster: Good
Surface: Good
Shape: Various: Seed, Oval, Round, Button
Matching: Good
Length: 45.5", 43", 30.75" (Longer lengths available)
Earring Metal: Sterling Silver
Sorry, this style is no longer available.

Go to main lavender pearl page.