Pearl Stud Earrings A Fashion Must-Have
Pearl Earrings -- Everyday Elegance. Pearl stud earrings are always in good taste and enhance your beauty with a touch of glamour.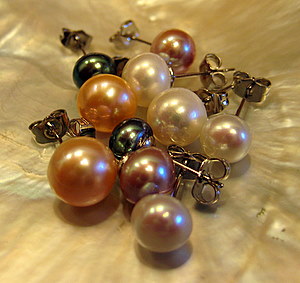 Pearl Stud Earrings
Four color choices for these earrings with pearls: peach, black, white and lavender of freshwater cultured pearls. These colors are all natural except the black is dyed.
Pair them with matching necklaces or wear alone. Several of my necklaces come with matching earrings, so you will want to check them out too.
But, pearl earrings show off very well on their own, unlike other jewelry pieces, pearl earrings are just right for every occasion, not too showy either....just right and simply lovely!
I have a friend who cannot wear sterling silver, so am offering a steel post option for you, if you have a similar situation.
You can see by the photographs the very nice quality with lots of luster and a clear surface....I picked these out especially for you!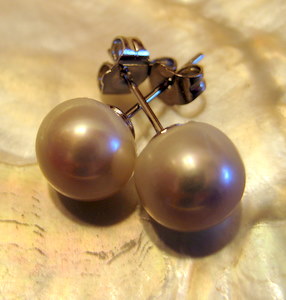 8mm White Pearl Earrings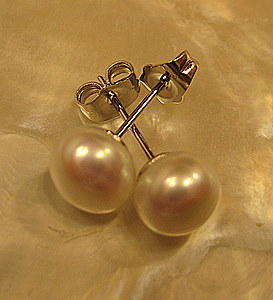 7mm White Pearl Earrings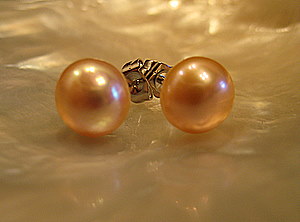 9mm Pink Pearl Earrings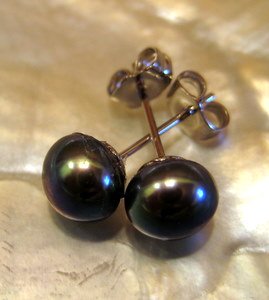 7mm Black Pearl Earrings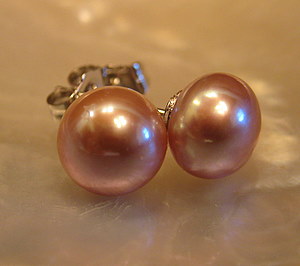 7.5mm Lavender Pearl Earrings
Sorry, these styles are no longer available.
See my White Pearls after Pearl Stud Earrings.