Three Strand Lavender Seed Pearl Necklace
I created this dainty lavender three strand cultured seed pearl necklace recently for June, my mother-in-law on her 90th birthday.
So in honor of her, I call this necklace "June 90".
June is a dainty little lady who likes small pearls. June says she wears pearls every Sunday....now, I really think she should wear them everyday, but to her they are just too special for daily wear.
Little pearls look great on anyone, especially if there is more than one strand.
I'd be happy to make up a pair of matching earrings or even a bracelet, so don't hesitate to contact me if you'd like those added to your order.
"June 90 Lavender"
The lovely color is natural, no dyes here. As I've mentioned before it was a thrill for me to see pearls this color in a freshly opened mussel on a pearl farm.
Because the pearls are so dainty, I haven't knotted between them. A knot between each tiny pearl would detract from their beauty.
These pearls actually are excellent also for young ladies...very feminine.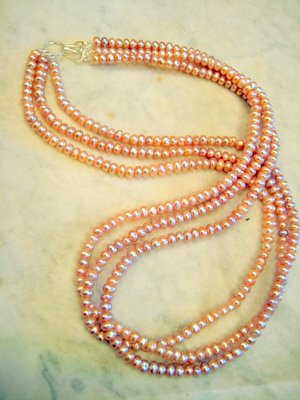 This necklace can be twisted or worn untwisted. Here are the facts:
Color: Natural color
Pearl Type: Cultured Freshwater
Shape: Seed
Size: 4mm
Luster: Good
Matching: Good
Metal: Sterling Silver
Length: 18"
Sorry, this style is no longer available.
Go to main Lavender Pearls for more lavender pearl choices.
Maybe you'd like to see a recent photo of June.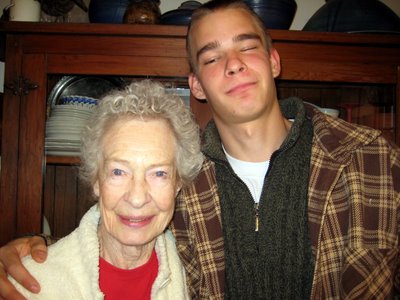 Proud Grandson, Matt and his little Grammie
She and Rognar (94) visited us last winter....a pretty big trip for them from Washington State to Iowa. June enjoyed helping feed our sheep and Rognar entertained us many stories.
Andrew and Rognar
Another proud grandson, Andrew, making a mold of Papa's uniquely shaped hand.