Jewelry Pearl Set
Jewelry Pearl Set These are gorgeous, wear everywhere, everyday pearl sets in a variety of four colors.
Freshwater cultured pearls are affordable and all nacre. There is no shell bead that's only covered with a thin layer of "pearl", these are pearl nacre through and through. They'll look lovely for years and years.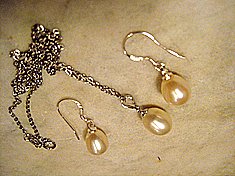 White Pearl Drop Set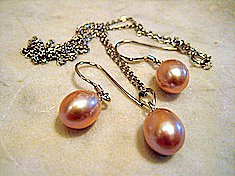 Lavender Pearl Drop Set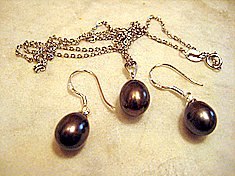 Black Pearl Drop Set
Pearl Type: Freshwater Cultured
Pearl Size: 8mm
Color: White (natural), Pink (natural), Lavender (natural), Black (dyed)
Pearl Surface: Clear
Pearl Shape: Drop
Pearl Luster: Good
Metal Type: Sterling Silver
Chain Length: 16"

Sorry, these necklace set are no longer available.
Return to main pearl drop necklace page after jewelry pearl set.