Lavender Freshwater Pearl Set
Lavender freshwater pearls occur naturally in freshwater mollusks.
I have watched mussels being opened and lovely lavender pearls come tumbling out full of brilliant color.
There is no need for any color enhancements...they are just lovely from the start.
You will find yourself wearing this lovely necklace and earring set very often.
Enjoy it with blue jeans, a fancy party dress or your working day suits.
You'll find this set is often "just what you needed" to finish off a special look.
This exquisitely knotted 17 inch necklace comes with matching drop earrings on sterling silver.
The filigree clasp is also sterling silver.
Lavender Pearls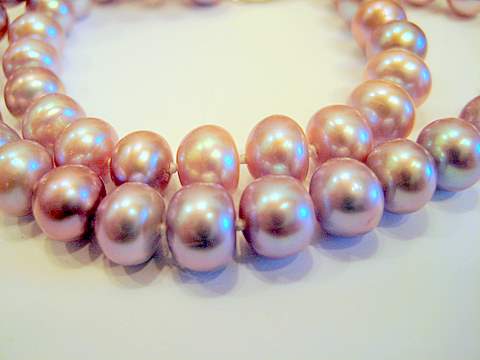 Lavender Pearls Close Up
Sterling Silver Clasp and Earrings
These 8mm button shaped lavender freshwater pearls are full of gorgeous luster and have near perfect surfaces. You can wear them with confidence.
Each set comes with a special silky gift bag ready for gift giving, free shipping and a 90 day return policy. I want every woman to be totally thrilled with her Kari Pearls gift.
Pearl Type: Freshwater cultured
Pearl Color: Lavender, no dyes
Pearl Size: 7-8mm
Pearl Shape: Button
Pearl Luster: High
Pearl Surface: Excellent
Necklace Length: 17"
Metal Type: Sterling Silver
Sorry, this style is no longer available.
View more lavender freshwater pearls.