Bridesmaid Jewelry
...some great ideas for Bridesmaid jewelry...or for any special occasion...even for everyday wear.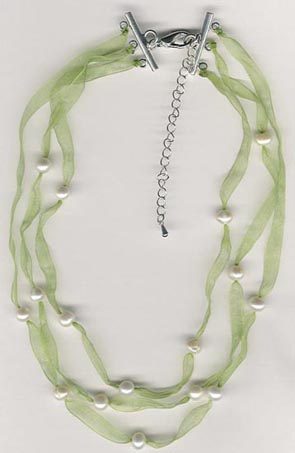 Here are some ideas for bridesmaid jewelry using real pearls.
My cousin purchased a huge fat white pearl from me and had it made into a beautiful engagement ring. Have you ever thought of using a pearl?

Bring on the color for bridesmaid jewelry! Another great idea is to give a bridesmaid a gift of pink pearls, or any color of pearls.
This ribbon comes in a variety of colors...easily matching colorful bridesmaid jewelry to their dresses.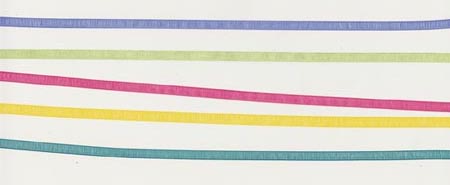 The real freshwater pearls add a touch of elegance.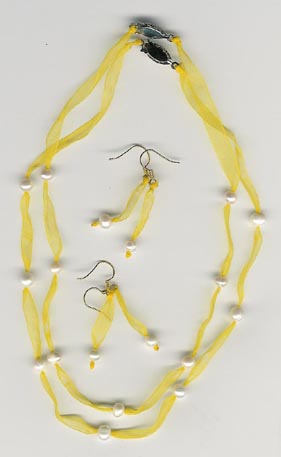 This colorful jewelry
--can easily be made at home,
saving on the cost
of your wedding.
Hey, how about a
necklace-making party?
...I can guarantee a great time.
Young people especially enjoy this adventure.
Some friends from Norway recently visited us...together we spent a laughter-fun-filled afternoon making necklaces.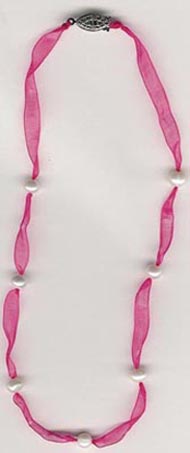 Not just for weddings
These lovely light and airy necklaces aren't limited to weddings...
Our young daughter has several in different colors...They are great for young girls.
(And older ones too).
Our oldest daughter studied last semester in France and I sent her a set while she was there...
(I'd forgotten she doesn't have pierced ears.)
She like them so much she considered getting her ears pierced.
Also she asked me to send several more sets...in a variety of colors so she could give them as gifts when she traveled.
I'll tell you a secret---guys like these.
For some reason...guys really are attracted to these necklaces. Just thought you available girls out there would like to know that.
How do I know that guys like these? Well...I have five sons and they feel pretty free to tell me their opinions.
One of them said, "Hey, I really like that. It's just neat...Wow, yeah...I do like that. I don't know why, I just do."
Then a less verbal brother, who was standing near, shook his head in the affirmative, agreeing with the first one.
Take it from me...these guys know what they're talking about. If they like something...it's pretty neat.
I ask their advice all the time.
Free instructions here...Make your own Bridesmaids' Necklaces
More about ribbon & pearl necklaces.
View Loose Pearls
View Longer 6 Strand Ribbon Pearl Necklaces.
More Pearls with Ribbons from Kari Pearls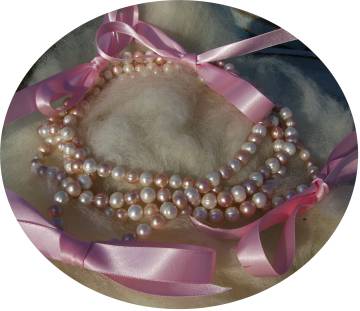 Click on photo or here for more about these pearls with ribbons.