Long Ribbon Pearl Necklaces on Multi-Strands
Romantic Ribbon Pearl Necklaces...A Winner Every Time!
White oval shaped pearls threaded on sheer beige ribbon make this necklace and earring set fairy-like and enchanting.

It's not an easy task to put these pearls on the ribbon, even if the ribbon is narrow at 1/4" wide. Pearl holes are small...it takes patience to do this, but it's well worth the effort as you can see. Don't be afraid to try it..."if I can, you can!"
Already these romantic necklaces are long and with the extension chain on the clasp the length can be adjusted.
I have only limited quantities available but a variety of colors to choose from.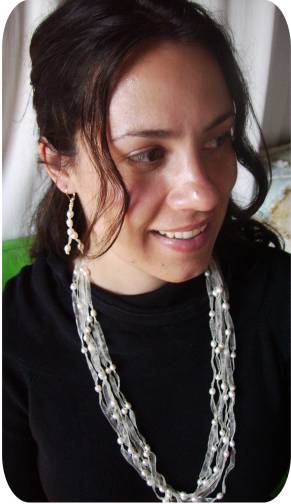 6 Strand Ribbon Necklace and Earrings Set Details
Length: 29"-32"--Great length
Color: White Pearls--Your choice of ribbon color
Size: 6-7mm pearls--Eye-catching size
Shape: Oval Pearls--Shape ovals
Luster: Medium--Lots of great shine
Clasp: Adjustable---3" extension chain
Earrings: Matching Dangle--Perfect companions
Sorry, this necklace style is no longer available.

Want to give it a try and make this necklace yourself?
Here I give free instructions on how to make these necklaces.
See pearls that work well for this project.
Sorry, I no longer offer a complete kit with everything you need including ribbon, pearls, clasp and earring hooks and instructions.