Pearls with Ribbons
Go to any mall in America and you'll find pearls with ribbons...


Ribbons and Pearls on our sheep's wool.
Ribbons and Pearls are Popular
...in upper end stores like Talbot's and in those with low prices such as Claire's.
Those you find are usually imitation, faux pearls. The necklaces and bracelets out of faux pearls are fun to wear, but why not wear real pearls?
Pearls can be affordable for any budget, just look at these pearls with ribbons. Notice the circles? They aren't perfect the way fake pearls are. Many of my young friends prefer these...they look real and are real!
Cost a fortune? No way...but they are gorgeous and wearing them will make you feel like a queen.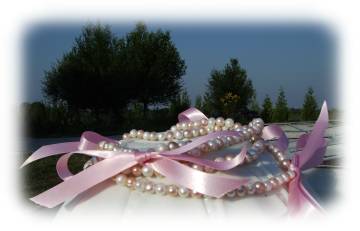 Real Pearls have Value
Genuine pearls won't be something you toss out after a fashion fad has passed.
They're something you'll want to give to your daughters or children of a good friend.
If pearls with ribbons becomes a passing fad, just remove the ribbon and you have a fashion statement of pink and white pearls that will never go out of style.
I find it so much easier to pass on nice things to someone you know and love. Yes, I donate many things to the local charitable second hand stores, but it's more motivating for me to give if it's someone I love and know personally.
As the youngest of our seven (yes, seven!) children, our daughter, Sarah, has owned more new clothing than the others. When she quickly grows out of them, of course, they're not worn out, just slightly used, and still lovely.
It's such a joy to give them to my nephew's little girl, Danielle, who I know appreciates them and will pass them on to her three younger sisters.
Ribbon Pearls are Affordable
But, back to pearls with ribbons. I've purchased these affordable pink and white circle pearl necklaces and added a pink ribbon. Other colors of ribbon can easily be substituted to match any outfit.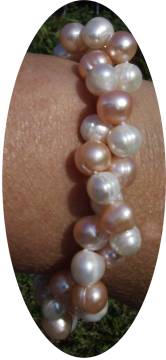 Want a bracelet? Done.
Simply wrap this necklace twice around your wrist, overlapping and twisting it and you also have a stunning bracelet.
Fashion Statement
Imperfect pearls, such as these, are quickly becoming a fashion statement. I see them in magazines, even on covers of magazines often.
Styles change and young people set the pace eventually. As new fashions are adaptations of past trends, pearls will always be cherished, but their look is changing and becoming more individual and unique.
Just look at blue jeans. Who would have dreamed that people would pay big bucks for pre-torn, pre-worn-out, paint spattered blue jeans. To people of my generation, it's mind-boggling. When I was young, blue jeans at this stage were finally tossed out, often regretfully, if they were favorites.
These super affordable pearls with ribbons aren't something you'll toss out, but hang on to and use for years to come and even pass on to someone special.
Have some fun...wear pearls!
(They'll even look great with those worn-out blue jeans.)
Sorry, this style is no longer available.


See more Pearls with Ribbons here. Or click on photo below.