Mother of Pearl Mirror
It is easy to create a fantastic mother of pearl mirror! Who doesn't like mirrors?

They add light and dimension to any room...even making a room appear to double in size like a restaurant I was recently in that had one entire wall covered with large mirrors. What a great optical illusion. I felt like I was in a huge room when in fact it was only 1/2 that size.
Mirrors....reflect light, show us as we really are, add depth to a room, and enhance the atmosphere with elegance.
Here's how I made this gorgeous mother of pearl mirror.
First off...I found an old mirror at a garage sale, one that showed wear on the silver backing...proving its age and bringing with it all sorts of intrigue...just who had looked at himself in that mirror, say 80 years ago? I left the flaws in the mirror itself, which to me added lots of character. Unfortunately, these do not show up well in my photos.
Secondly, since the veneer around the edges was peeling off anyway...I finished the job....clean down to the bare basic wood frame. Because of the peeling veneer, I got it for a super give-away price....not everyone saw its potential beauty.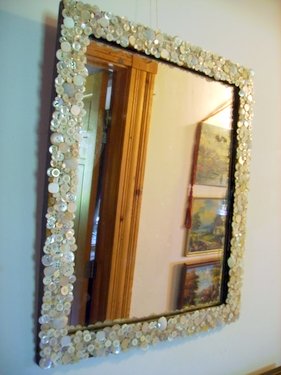 Mother of Pearl Mirror
Thirdly, I gathered some buttons.
You do have a button box, don't you? Everyone should have one (or more) of these. If you don't, keep your eyes open for them at garage sales, second hand stores, and antique shops....or ask your great aunt to leave her yours in her will. These boxes are real treasures!
In this case I used shades of white and various sizes and shapes of buttons, with a sprinkling of small shells as well.
Fourthly, I heated up my handy hot glue gun. Since this was just going to hang on the wall, and not receive heavy handling, this type of glue would work fine. You will want a stronger glue if it is for a hand-held mirror or photo frame which will receive handling.
Fifthly, I started gluing randomly over the frame...here, there and everywhere. I did not want a definite pattern to appear, so just picked up various sizes and placed them randomly on the frame.

Mother of Pearl Mirror Closeup
Sixthly, I just keep on gluing until the wood didn't show up anymore. To accomplish that, you'll need to pile them on top of each other in places, but that all adds to the final effect of lavish abundance on this mother of pearl mirror. For sure, you don't want to leave anyone looking at themselves in this mirror with a skimpy feeling. You want them to feel rich, full and capable.
Seventhly, I secured a strong wire for hanging and found a suitable place to hang it. In this case it is in a hallway, directly across from a window in the next room, so the light reflects off the mirror, making the area brighter and feeling larger.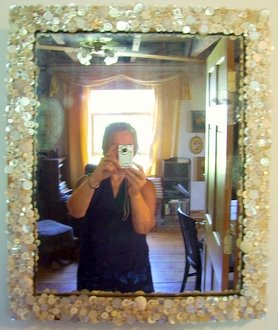 Mother of Pearl Mirror & Kari
Just in case you don't have a button box to draw buttons from, I've added these helpful Ebay sales of mother of pearl. You'll find a wide variety of mother of pearl that you can use for a project such as this.
Have fun....I'd love you see a photo of your mother of pearl mirror when it's finished!
Learn about vintage mother of pearl buttons after reading how to decorate a mother of pearl mirror.